Tree Scavenger Hunt
There is plenty to explore in the Olmsted Parks! A scavenger hunt is a great way to challenge yourself to engage with nature. 
---
Collecting Tree Leaves
Leaves are the trees' source of food. The leaves collect the energy of sunlight which is used to make sugars. These sugars are then transported to other parts of the tree and used for nutrition.
As you walk through the forest you will see many different kinds of trees that Humans and animals have many uses for, including food and shelter.
Your team gets points for each item you find and for each bonus question you answer correctly.
CAN YOU find THE FOLLOWING TREE LEAVES?
(10 Points POssible)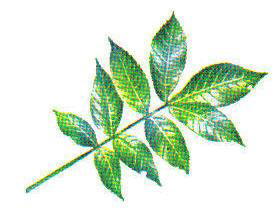 Hickory Trees
COLLECT A HICKORY TREE LEAF (1 POINT)
"Hickory Dickory Dock, the mouse ran up the clock." Remember that nursery rhyme? Early settlers used hickory trees were used to manufacture tool handles because the wood is very hard. The nuts are very sweet and were used in cakes and cookies.
---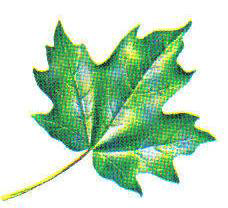 Maple Trees
COLLECT A MAPLE TREE LEAF (1 POINT)
There are many different kinds of maple trees. Red maples have very pretty red leaves in the fall. Like the early settlers, we all love sugar maples trees. In the early spring, the settlers collected sap from the trees boiled it in big kettles and made maple syrup and maple sugar candy.
---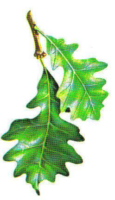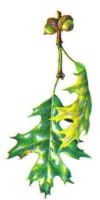 OAK TREES
COLLECT AN OAK TREE LEAF (1 POINT)
Oak trees were prized by early settlers to make furniture and flooring. In Kentucky, they used white oak to make the barrels to age bourbon. Acorns are the nuts of the oak tree. Humans do not eat acorns but lots of animals, such as squirrels do.
---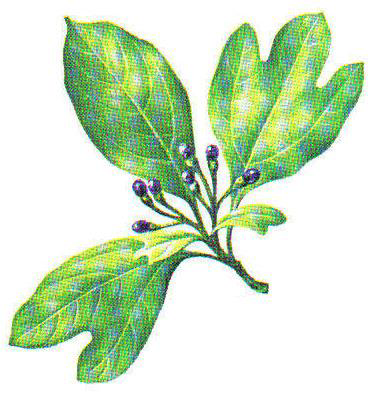 Sassafras Trees
COLLECT A SASSAFRAS TREE LEAF (1 POINT)
You can find three different shaped leaves on a sassafras tree. Pick on and chew the stem. Early settlers used sassafras roots to make both root beer and tea.
---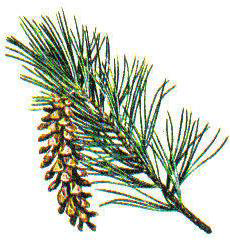 Pine Trees
COLLECT A PINE TREE LEAF (1 POINT)
Everyone is familiar with pine trees which we decorate for Christmas trees. Unlike the other leaves we have collected, pine trees do not lose their leaves in the fall. They are a very soft wood which means they are light weight. Pine cones hold the nuts for the pine tree.
---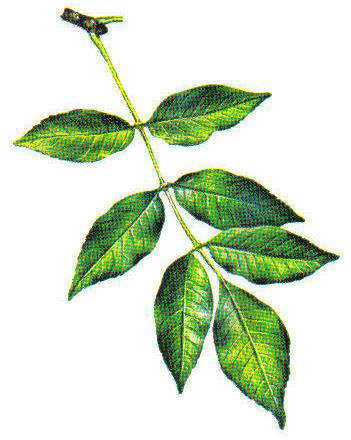 Ash Trees
COLLECT AN ASH TREE LEAF (1 POINT)
Ash tree is one of the most widely planted ornamental trees throughout the United States and much of Canada.
The wood is hard, dense, tough and very strong but elastic, extensively used for making bows, tool handles, quality wooden cricket bats, even Louisville Slugger baseball bats!
Ash is also used as a food plant by the larvae of some species of butterflies and moths.
Recently, the emerald ash borer (Agrilus planipennis), a wood-boring beetle accidentally introduced to North America from eastern Asia, has killed millions of trees in the United States and threatens some 7 billion more ash trees in North America. Everyone is being cautioned not to transport firewood or mulch in order to slow the spread of this insect pest.
---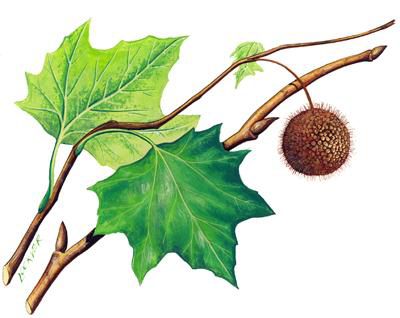 Sycamore Trees
COLLECT A SYCAMORE TREE LEAF (1 POINT)
Sycamore trees prefer deep river-bottom soils. In the Mississippi and Ohio River valleys, they may attain spectacular size, up to 175 feet tall and 14 feet in diameter! Individual trees may live over 500 years. The leaves of the sycamore are very large, just like the tree.
They have numerous short hairs on the stem and veins, giving them a fuzzy feel. The wood of the sycamore is
hard so it gets used in cabinets, furniture, boxes and barrels. Native Americans would use the whole trunk of a tree to make dugout canoes.
The fruit of the sycamore is a woody ball that ripens in October and persists through the winter, when it breaks up into many small seeds which are favored by many birds
---

Red Bud Trees
COLLECT A RED BUD TREE LEAF (1 POINT)
In April, purplish pink flowers surround the bare twigs of the redbud tree. Later in the spring, heart shaped leaves dangle from the branches. The redbud is commonly found along woodland edges and in the under story of healthy forests. Native Americans consumed redbud flowers raw or boiled, and ate roasted seeds. The leaves are eaten by some catepillars and squirrels.
---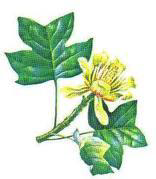 Tulip Poplar Tree
COLLECT A TULIP POPLAR TREE LEAF (1 POINT)
The tulip poplar is one of the tallest hardwood species in North America, able to reach a height of 200 feet, with a straight trunk and the lowest limb at close to 100 feet from the ground! It may be found throughout the eastern United States, but early naturalist noted that this tree was most abundant in Kentucky, and in no other location was the tree found to stand so tall and so wide in diameter. The wood of the tulip tree is light weight, soft, and easily worked. Native Americans and early explorers used the wood from the tulip tree for dugout canoes, and the tree has been used for paper pulp, construction, and furniture throughout the years.
---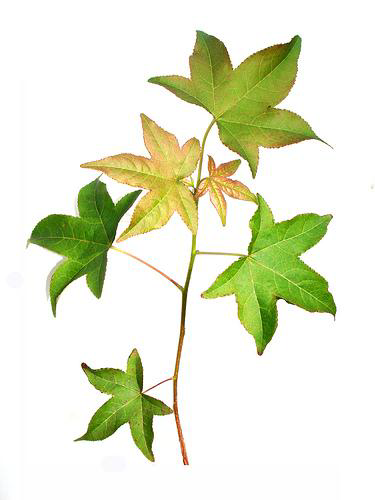 Sweet Gum Tree
COLLECT A SWEET GUM TREE LEAF (1 POINT)
The Sweet Gum tree is a popular ornamental tree in North America and is recognizable from its combination of five-pointed star-shaped leaves and spiked fruit. The seeds are eaten by songbirds and squirrels here in urban areas, and by wild turkey, chipmunks, and bobwhite in rural and suburban areas. Its name refers to the sap that comes from cuts in the bark. Hardened clumps of this gum are chewed by some people, as it was chewed by Native Americans and the early pioneers.

Bonus Questions
Earn up to 5 extra points by answering these questions correctly:

Name a kind of candy made from one of the trees in this forest.

(1 POINT)




If you were going to make a baseball bat, what kind of a tree would you look for in the
forest? (1 POINT)


Which tree did early settlers use to make tea?

(1 POINT)




Which tree would you use to make a Christmas Tree? (1 POINT)


If you were going to make a canoe, what kind of tree would you look for in the forest? (1 POINT)
---