Looking to add a little adventure to your routine?
Now might be the perfect time to pick up a new outdoor sport – like Mountain Biking!
Mountain biking is a low impact sport, which reduces stress on your joints and has been proven to boost brain power by increasing blood flow and oxygen to the brain. Unlike a treadmill or running on a track, mountain biking is a dynamic activity which requires constant adjustment to changes in pitch, terrain, and elevation – helping you improve both coordination and balance.
---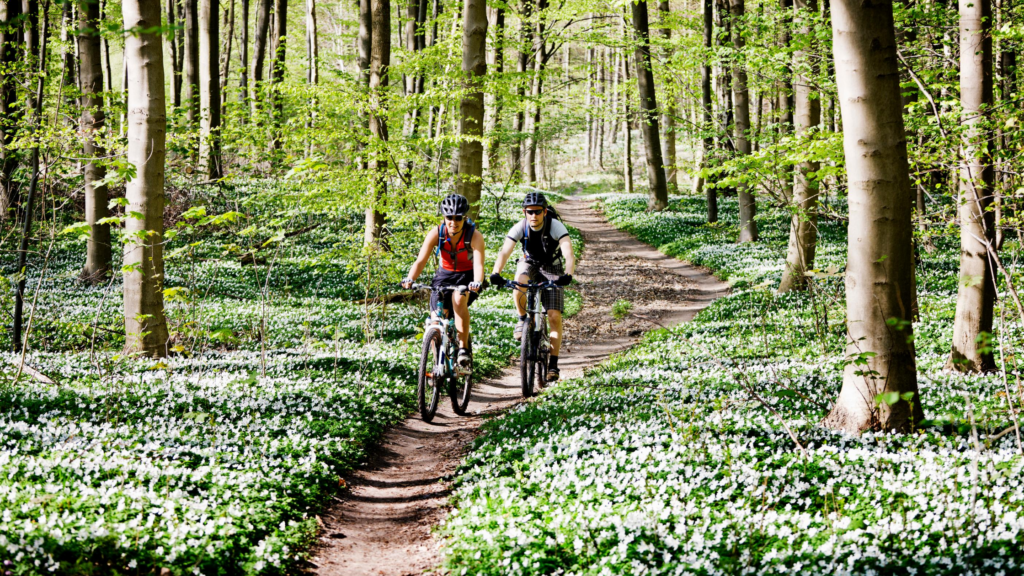 Getting Started
Unlike running or birding, Mountain Biking does involve significant upfront investment – but that doesn't mean you have to break the bank to hit the trails. Try borrowing a bike from a friend for a test ride, or purchasing a more beginner bike from a local store. You can even search for slightly used bikes on Facebook Marketplace or the LetGo app to look for deals. However you decide to purchase your bike, the thrill and the challenge outweigh the initial cost for many.
Here are some tips we recommend for any beginner Mountain Biker:
Wear a helmet. This is obvious, and backed by a Louisville Metro Ordinance, but Mountain Bikers should ALWAYS wear a helmet. Even the most advanced mountain bikers can fall off occasionally and it's important to protect yourself.
Look out for hikers and runners. Most of the trails in our Olmsted Parks are mixed use – be on the lookout for hikers and runners and be sure to alert them with sayings like "on your left" as you try to pass.
Let your bike do its thing. It can be scary going so fast on uneven terrain and it's easy to feel like you want to control the jostling. Instead of working against your bike, move with it. Flare out your elbows and knees to flow with your bike instead of fighting it.
Keep going. Your first instinct when you're racking up momentum on challenging terrain is to slow down, but your bike needs that momentum to move forward. Maintain it whenever you can.

Shift your weight.

You may hit some steep inclines and declines on trails in the Olmsted Parks. Lean your weight forward when climbing uphill and shift your weight behind the saddle when going downhill to avoid flipping forward.
Take it easy on the brakes. Mountain bike brakes are very sensitive – so you might just need a few fingers on the brakes to control your speed. See rough terrain ahead? Try to adjust your speed before you hit tricky areas to avoid an accident.
Keep your eyes ahead. Your bike will go where your eyes do – looking forward helps you prepare for what's coming next without fixating on obstacles like tree roots or rocks. It's also important to use your peripheral vision to avoid low hanging branches.  
Join a local organization. Don't take our word from it – join a group full of experienced Mountain Bikers, like KYMBA to learn more about future group rides and resources to help you get started.
---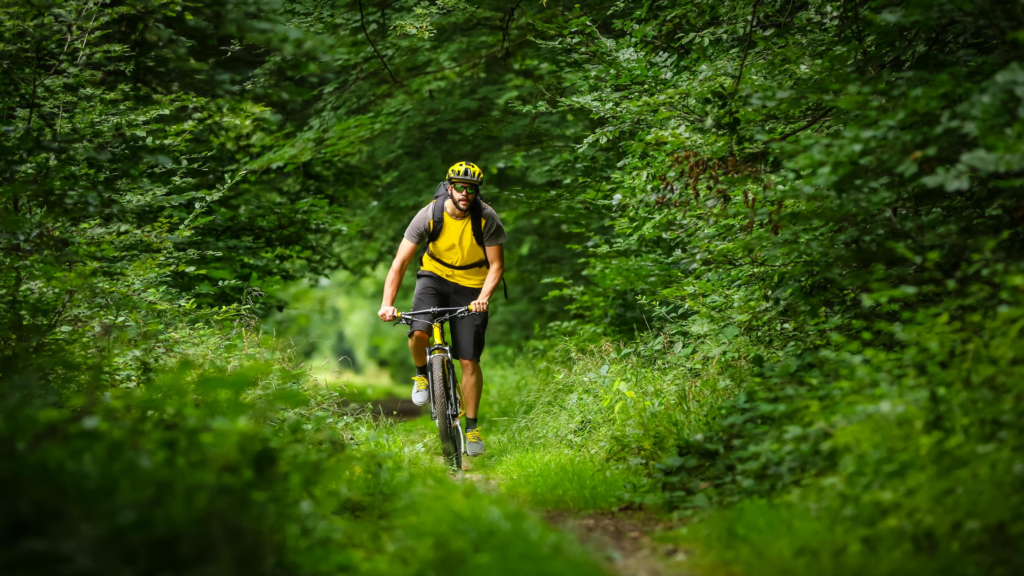 Where to Mountain Bike in the Olmsted Parks
Cherokee and Seneca Park offer multiple Mountain Biking trails. Just be sure to track trail conditions on sites before heading out – wet and muddy trails can be disastrous for both riders and the park itself.