Park at Dark: Nature Exploration Kit
We know COVID-19 has made this summer a stressful time for many, especially for those with young kids (or grandkids) at home. Vacations have been postponed, camps have been canceled, and pools are just now opening with limited capacity. But thanks to ongoing support from members like you, our Olmsted Parks have remained beautiful, vibrant, and accessible to all, providing us with the perfect place to play, learn, and relax outside.
To help you make the most of the last few summer nights in the park or at home, Olmsted Parks Conservancy is launching our 

Park at Dark nature exploration kit. 
---
And remember, current Olmsted Parks Conservancy members can get 10% off with code 2020MEMBER10!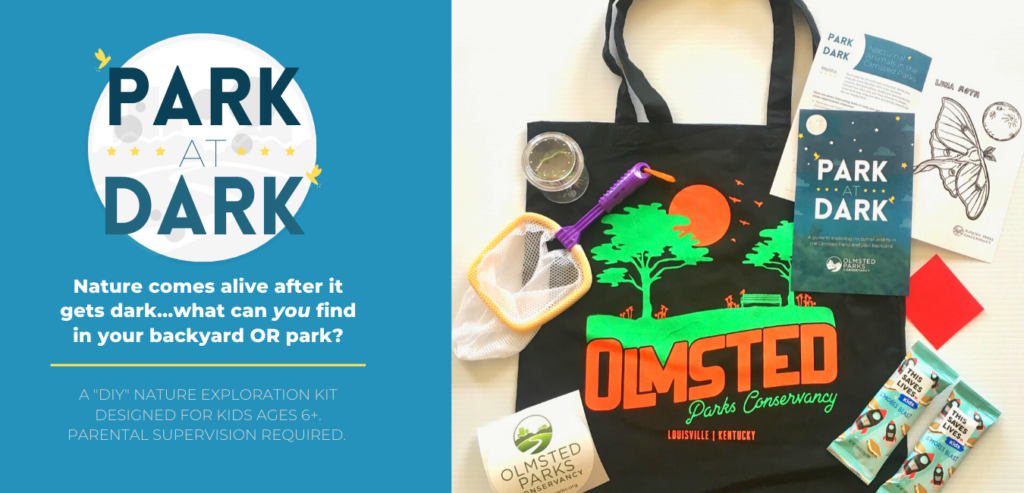 The Park At Dark nature exploration kit has everything you need to start exploring! 
As daytime temperatures drop, nocturnal (nighttime) wildlife, like bugs and animals, become more active. Owls call in the distance. Bats flutter overhead. The calls of katydids and crickets form a beautiful chorus. Nocturnal animals like beavers, opossums and foxes all emerge to find food. Even lightning bugs, moths and spiders come out! And with the moon, distant planets, constellations and meteor showers, the night sky is constantly changing.
Summer nights are a perfect time to journey outdoors to see what native wildlife you can find in your own backyard. This "DIY" nature exploration kit provides you with all the tools you need to get started, including:
Olmsted Parks Conservancy limited-edition tote bag
Printed "Park at Dark" outdoor guide with activities, coloring pages, and educational information on nocturnal wildlife
S'mores bar (2)
Olmsted Parks Conservancy sticker
Red Vellum for your flashlight (to help give you night vision!)
Small bug jar with magnifying glass attached
Bug net
Nature exploration kit designed for kids ages 6+. Parental supervision required. Louisville Metro Parks (including the Olmsted Parks) close at 11 PM.  

Sold out? Print your own booklet at home!