Over several days, Olmsted Parks Conservancy coordinated 28 volunteers to enhance the much-loved Elliott Park. Projects completed were:
Painted exterior of the restroom building
100 cu. ft. of mulch was spread around the playground and swing set
55 trees were mulched
New lines painted on the ball court
General clean up
On July 29, Dreamsetters United, an organization empowering youth, spent time at Elliott Park with several teens and young adult volunteers. "We are extremely excited about renovating Elliott Park in hopes that the community can come together in a nice place which in theory will help minimize the amount of crime in the area. We just want to help bring the community back together," stated Hassan Latifalia, Founder, Dreamsetters United.
Elliott Park is a popular area for the Russell neighborhood. Olmsted Parks Conservancy is committed to keeping the park as a welcoming greenspace until funds are donated to create a plan for future renovation.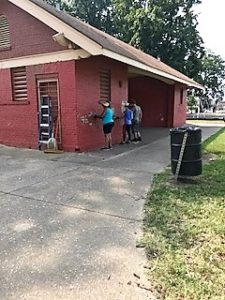 Find something similar: Elliott Park