Olmsted Parks Conservancy and Louisville Parks and Recreation broke ground on a $2.9 million restoration project at Elliott Park on November 7! The restoration includes a new playground, field house, picnic facilities, walking paths and sprayground. The park restoration is several years in the making. In 2020, Olmsted Parks Conservancy worked with park neighbors and stakeholders, including ElderServe, the Louisville Gators youth football league and other community organizations and park regulars to create a community-informed vision for Elliott Park's future. The Conservancy then worked with Taylor Siefker Williams and Gresham Smith to formalize the Master Plan for the park.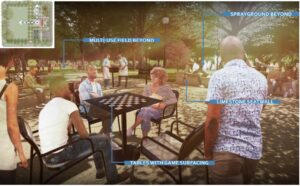 Funding for the Elliott Park restoration comes from Olmsted Parks Conservancy, city budget allocations and the American Rescue Plan. Olmsted Parks Conservancy raised $725,000 from local donors, including the James Graham Brown Foundation and LDG Development. The City of Louisville matched the Conservancy's investment with a $650,000 capital allocation in Mayor Fischer's fiscal year 2022 budget. Mayor Fischer then allocated another $500,000 in American Rescue Plan funding and in 2023 Metro Council approved, at Mayor Greenberg's recommendation, another $1.1 million to complete the project. Elliott Park is located two blocks from the new West Louisville Norton Hospital and Goodwill Opportunity Campus.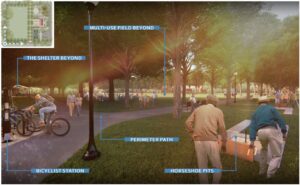 "Elliott Park is one of 17 parks in Louisville's Olmsted Park System, a network of green spaces that bring nature into the city," says Layla George, Olmsted Parks Conservancy President and CEO. "The Olmsted Brothers developed Elliott Park according to Frederick Law Olmsted's vision of accessible green space as the antidote to urban living. This transformative project will re-establish Elliott Park as a Russell landmark for community building and outdoor recreation."
Elliott Park's restoration plan was developed in accordance with Olmsted Parks Conservancy's park stewardship focus areas:
Accessibility: The design will improve movement for people of all abilities visiting and using the park amenities.
Equity: The design will cater to all park users and be flexible for various activities and gathering sizes.
Sustainability: The design will improve existing amenities and preserve valuable landscape features, like mature trees.
Once called Eclipse Park, what is now Elliott Park hosted Major League Baseball home games for Louisville's team, The Colonels, until 1892 when the park was destroyed by a fire. The Olmsted firm developed the site into a park in 1906. From 1950 to 2019, the park received a variety of improvements, including the spray pad and playground. In recent years, park users have expressed concern over deferred maintenance and Olmsted Parks Conservancy responded by prioritizing Elliott Park for a complete renovation. The Conservancy completed a similar renovation project in Victory Park in 2019.
Find something similar: News Projects Elliot Park Elliott Park