Olmsted Parks Conservancy is happy to announce the antiquated restrooms in Central Park are completely renovated. The new look includes modern fixtures, sturdy stalls, brand new plumbing, and handsome red floor tiles. One important note: the men's and women's bathrooms have been switched. The women's is now on the north side and the men's on the south side.
Metro Louisville, Metro Parks & Recreation and generous donors to the Campaign for Extraordinary Parks, including the Burton D. Morgan Foundation, makes this restoration project possible.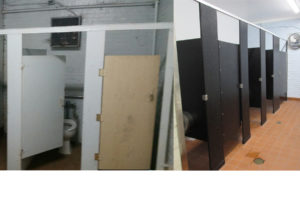 Central Park was originally part of the DuPont Estate that was the site of the 1883 Southern Exposition. Central Park was then designed by the Olmsted Brothers in 1904 to be a public park, a green oasis within the urban center. The park today is a central gathering point near the downtown area. Its beautiful trees and walkways provide a haven for local residents and out-of-town visitors. Kentucky Shakespeare in Central Park is a draw for audiences from the entire region.
Find something similar: Central Park