Olmsted Parks Conservancy urges park visitors to "stay smart, 6 ft apart," through new in-park social distancing stations
Social distancing stations, sponsored by Republic Bank, have been installed in four Olmsted Parks to encourage safe park use during the COVID-19 Pandemic
Olmsted Parks Conservancy has installed new signage and interactive "social distancing stations" to encourage park users to maintain a 6-ft distance within Cherokee, Seneca, Iroquois, and Chickasaw parks.
Louisville's Olmsted Parks make up 20% of all city parkland, with over 2,200 acres of public green space in the West, South, and East ends of our city. Connected by 15 miles of tree-lined Olmsted Parkways, our Olmsted Parks system gives everyone—regardless of race, income, or background—access to walk, ride, or commute quickly and easily to a park.
Before the pandemic, some Olmsted Parks were already highly used – with Cherokee and Seneca averaging 1.6 million visitors annually, according to the Trust for Public Lands. But during the COVID-19 pandemic, our Olmsted Parks have seen a steep increase in usage. According to the Google Mobility Report, parks in Jefferson County have seen a 104% increase in visits.
"Although we are all trying to stay 'Healthy at Home' as much as possible, it's evident that our parks are needed now more than ever, as more people turn to the Olmsted Parks to escape from the pressures of our new lives," said Layla George, President and CEO of Olmsted Parks Conservancy. "That's why all of us at Olmsted Parks Conservancy are working hard to ensure that all Louisville residents continue to have safe access to the amenities and opportunities they need to stay physically and mentally healthy during this stressful time."
---
On April 8, the Mayor and Louisville Parks and Recreation closed in-park roads to vehicle traffic in Cherokee, Iroquois, and Chickasaw Parks, allowing pedestrians and cyclists to spread out and maintain 6 feet of distance within the park. And now, thanks to generous support from Republic Bank, Olmsted Parks Conservancy (in partnership with Louisville Parks & Recreation) has installed interactive and educational in-park signage in four Olmsted Parks to encourage park visitors to stay 6-ft apart and slow the spread of COVID-19.
"I'd like to thank the Olmsted Parks Conservancy for their continued support during these trying times and throughout the last three decades," said Dana Kasler, Director of Parks and Recreation. "I greatly appreciate their enhancement of our social distancing messaging in our parks with the new stations and this fun and attractive signage."
A total of eight "social distancing stations" have been placed at park entrances and/or highly trafficked park areas in Cherokee, Seneca, Iroquois, and Chickasaw parks. Each station consists of a series of outdoor stickers placed 6-ft apart (in every direction) on paved roads, visually reinforcing the social distancing guidelines set by the CDC. These stations are designed to orient park visitors as they enter the park so they can maintain a safe 6-ft distance on paved roads, trails and open areas within the parks.
---
---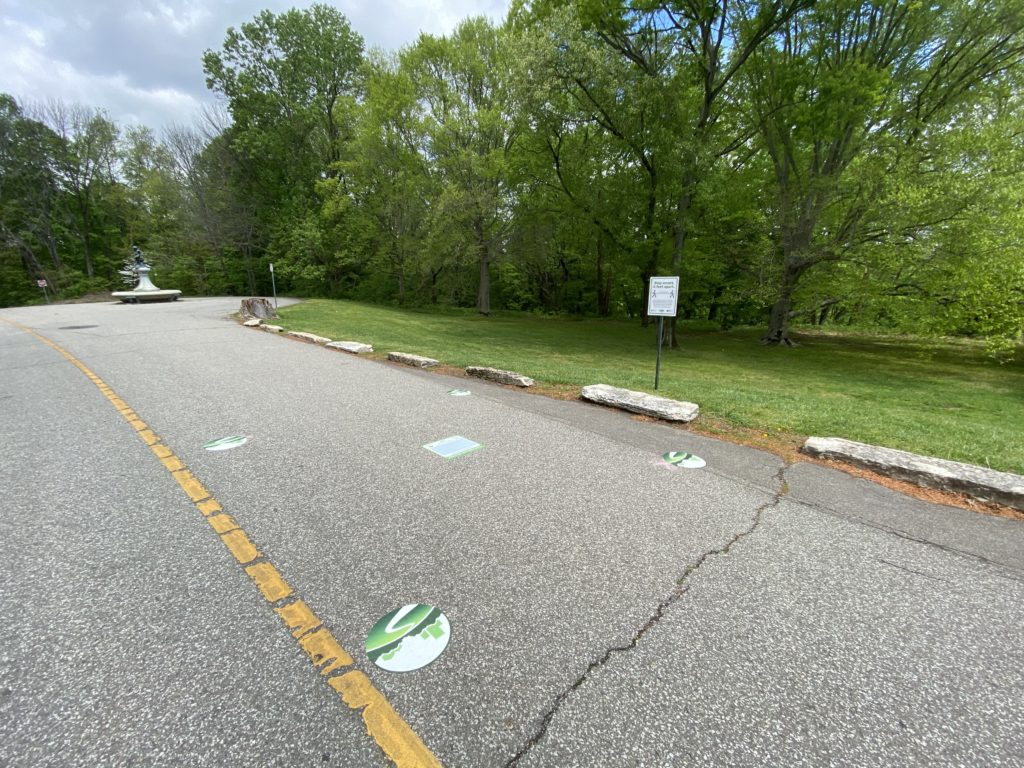 "It's going to take all of us doing our part, staying 6 feet apart, to keep these treasured parks open and protect park visitors. And it also takes support from our generous members and corporate partners, like Republic Bank, and our Olmsted Park Partners (Gresham Smith, Kentucky Select Properties, LG&E and KU, and Trager Family Foundation) who go above and beyond to support our Olmsted Parks and our community at large," George continued.
"Republic Bank has been serving this community for over 40 years, and especially during this challenging time we put the highest priority on the health and safety of our employees, clients, and our communities while providing continuity of service to meet their needs," said Andrew Trager-Kusman, Senior Vice President and Managing Director of Corporate Strategy for Republic Bank. "We're proud to be part of programs like this that have the same focus on health and safety in this crisis."
---
In addition to maintaining 6 feet of social distance, park visitors are encouraged to stay informed and follow the most up to date CDC safety guidelines for protecting themselves and others while using the parks: https://www.cdc.gov/coronavirus/2019-ncov/prevent-getting-sick/prevention.html.
A list of the most up to date closures can also be found on Louisville Parks & Recreation's website: https://louisvilleky.gov/government/parks/louisville-parks-and-recreation-covid-19-response
You can find more information on Olmsted Parks Conservancy's COVID-19 response at https://www.olmstedparks.org/2020-offerings/.
###
About Olmsted Parks Conservancy
Louisville Olmsted Parks Conservancy, Inc., a non-profit organization, was established in 1989 to restore, enhance and forever protect Louisville's historic 17 Olmsted Parks and 6 Parkways. Working as a non-profit partner with Louisville Parks and Recreation, the Conservancy provides planning and funding for park improvements and natural areas management through donations from individuals, foundations, and corporations. In 2019, Olmsted Parks Conservancy celebrated our 30th year connecting nature and neighborhood and overseeing $40 million in investment in our Olmsted Parks. olmstedparks.org
Find something similar: News