Olmsted Parks Conservancy 2020 Offerings
We are here for you – and so are the Olmsted Parks.
Just as we've done for the past three decades, Olmsted Parks Conservancy is here to protect our olmsted parks and advocate for our park visitors.
That's why we're working hard to ensure that everyone continues to have access to the amenities and opportunities they need in their parks to stay physically and mentally healthy, while also advocating for safe use of our parks. Learn more in this letter from President and CEO, Layla George.
---
What would you like to see from us in 2020?
Because everyone in our administrative office is working remotely, you may see our faces less often, but rest assured—we are always here for you. That's why we're working on new ways to bring the Olmsted Parks to you in these unusual times.
From at-home invasive plant management tips, to new recommendations for in-park scavenger hunts and guides, we're busy compiling resources to help you stay safe, sane, and immersed in nature during this time of physical distancing. We're also making plans for an exciting future—when the coast is finally clear—that includes new park projects, educational walking tours and fun, free community events in the parks.
Please take this 10-minute survey and tell us HOW WE CAN enhance your "new normal" during the COVID-19 Pandemic.
---
Please stay smart, and enjoy the park 6 feet apart.
To encourage social distancing and the health of park users, our partners at Louisville Parks & Recreation have closed playgrounds and sport courts, and we encourage visitors to stay informed and follow the most up-to-date safety guidelines for protecting themselves and others while using the parks.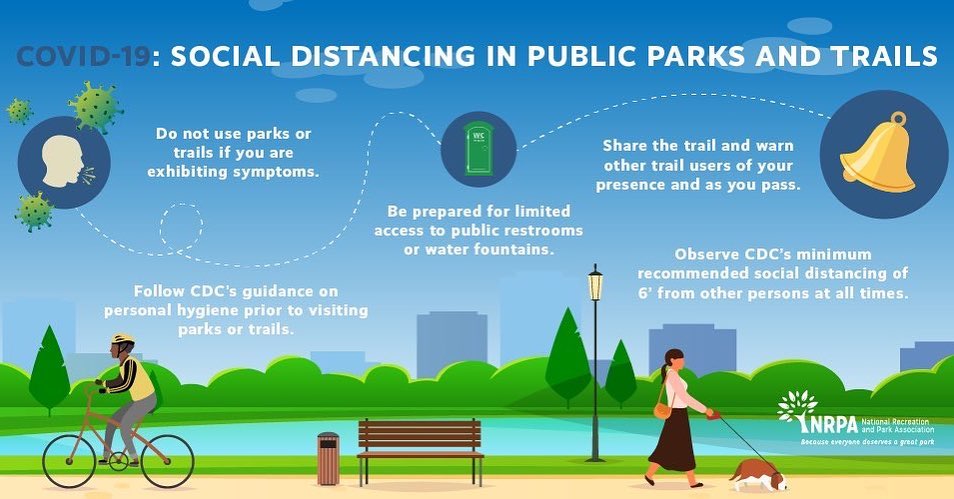 We encourage all park users to review guidance from the CDC.
And here a few additional ways we recommend safely using the parks:
Stay Smart (6 ft. apart) and visit a new park! Now's the time to explore our amazing system and take a walk with one friend – six feet+ away from each other.
Vary the times you visit the park to try and reduce crowds. And if you see too many people to maintain Social Distancing – turn around and come back later.
Venture away from "the loop" and take a walk on a natural trail – but be safe. Warn other trail users of your presence and as you pass to allow proper distance and step off trails to allow others to pass, keeping minimum recommended distances (6ft) at all times. Signal your presence with your voice, bell or horn.
Wash your hands before you visit the park – and bring hand sanitizer with you just in case. Bring your own water to avoid public drinking fountains.
Go to the bathroom before you leave, since restrooms will be closed.
Use an Olmsted Parkway to hike, walk, or ride to the park and enjoy the beauty of nature. Sometimes the journey can be just as enjoyable as the destination.
Walk your dog on the natural trails on a 6ft leash – but don't let your friendly furry friend run up to others.
---
And it's important to keep our parks and native plants healthy, too.
While in the parks, you may glimpse members of our Team for Healthy Parks field crew, who continue to work hard outdoors (from a healthy distance of 6 feet apart), planting trees and bushes and keeping invasive plants from threatening our native plants and park ecosystems. (Make sure to wave "hi!") Their ongoing work helps to ensure that the Olmsted Parks remain vibrant and beautiful for those who need it most. And we wouldn't be able to do any of it without you, our incredible supporters.