Who is ready for some music in Tyler Park? We are getting closer to starting construction on the newest stage in the Highlands neighborhood. The survey, design, and construction document processes are complete, and now we collect bids in order to select a contractor.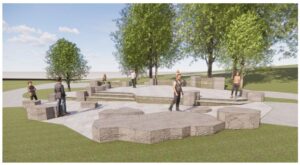 Important dates and information:
Pre-bid meeting on site at Tyler Park, November 9 at 9 a.m.
Bids due December 4 EOB and can be submitted electronically to major.waltman@olmstedparks.org. Subject: Tyler Park Music Stage bid
A generous gift to Olmsted Parks Conservancy has made it possible to build the new Tyler Park stage. The stage is the last capital improvement of the Tyler Park Restoration Plan that was initiated in 2018. Olmsted Parks Conservancy and Louisville Parks and Recreation have invested almost $1.5 million in the park since 2018.
Find something similar: News Projects Tyler Park