In October, our Team for Healthy Parks focuses on reducing two invasive plants: bush honeysuckle and multiflora rose. While honeysuckle and rose may seem like desirable flowers to have in the Olmsted Parks, they outcompete native flora and reduce the sustainability of our natural areas. Both of these plants were once part of many gardeners' landscapes, and even promoted as beneficial additions to the landscape by agencies like highway departments.
Multiflora rose was identified as a problematic plant by conservationists in the 1960s. While state and local agencies prized the multiflora rose for its ability to form dense thickets quickly, it is precisely that property of the plant that prevents forest regeneration and biodiversity.
Bush honeysuckle forms a thick understory that prevents sunlight from reaching the seedlings of native plants. They also compete with native plants for pollinators.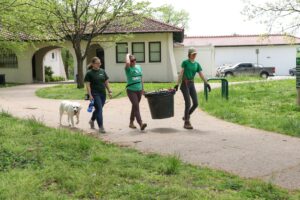 If you see a Team for Healthy Parks member out in the Olmsted Parks, they may be able to show you examples of these plants so you can look out for them in your landscape! The more we work together to reduce these species, the more effective the management. Either way, thank our team for keeping the parks sustainable and healthy.
Find something similar: Projects Bingham Park Central Park Cherokee Park Chickasaw Park Iroquois Park Seneca Park Shawnee Park Tyler Park