"Look at the light coming through the leaves… Do you see the shape of the shadows? What do you think you would see if we stand directly under the tree?" Photographer Jon Cherry asked these questions of the Louisville Urban League's Polaroid Project participants on a photography walk in Cherokee Park, helping them understand how to use a camera to tell a story.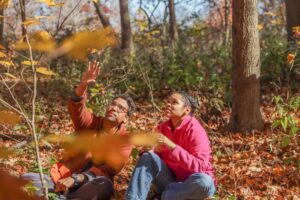 Jon, along with fellow photographer Christian Monterrosa, volunteered as part of a collaboration between Olmsted Parks Conservancy and Building Equal Bridges, the Tyler Gerth Foundation. The Tyler Gerth Memorial Photography Contest invites park enthusiasts to submit images celebrating Louisville's Olmsted Park System, and this photography walk helped Polaroid Project participants prepare to enter the competition!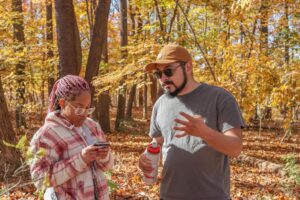 Olmsted Parks Conservancy and the Louisville Urban League are grateful to Jon and Christian, who have considerable expertise as assignment photographers for outlets like The New York Times and Reuters. In teaching these students to look for and capture the beauty in the parks, they inspire lifelong learning about our environment, community, and photography.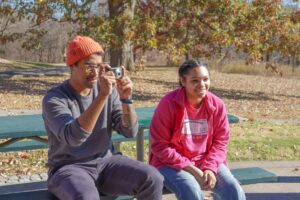 The Tyler Gerth Memorial Photography Contest is still open through December 15. Photographers may submit images from the Louisville's Olmsted Parks for a chance to be featured in Olmsted Parks Conservancy's marketing, and the grand prize of a $100 Murphy's Camera gift card.
The Tyler Gerth Foundation works with local organizations to advocate for a more equitable world for the next generation through projects that focus on education, collaboration, and unification. The historic Olmsted Park System connects nature and neighborhood, providing the perfect environment to document community spaces and connections through the art of photography.
Click HERE for information about entering the photography contest!
Find something similar: News Cherokee Park