Donate During the 2020 Membership Drive
Donate During the Olmsted Parks Conservancy Membership Drive: December 1 – 17
This December, we're bringing you 17 days of opportunities to give back to the Olmsted Parks you love.
DONATE BETWEEN DECEMBER 1 AND DECEMBER 17 AND: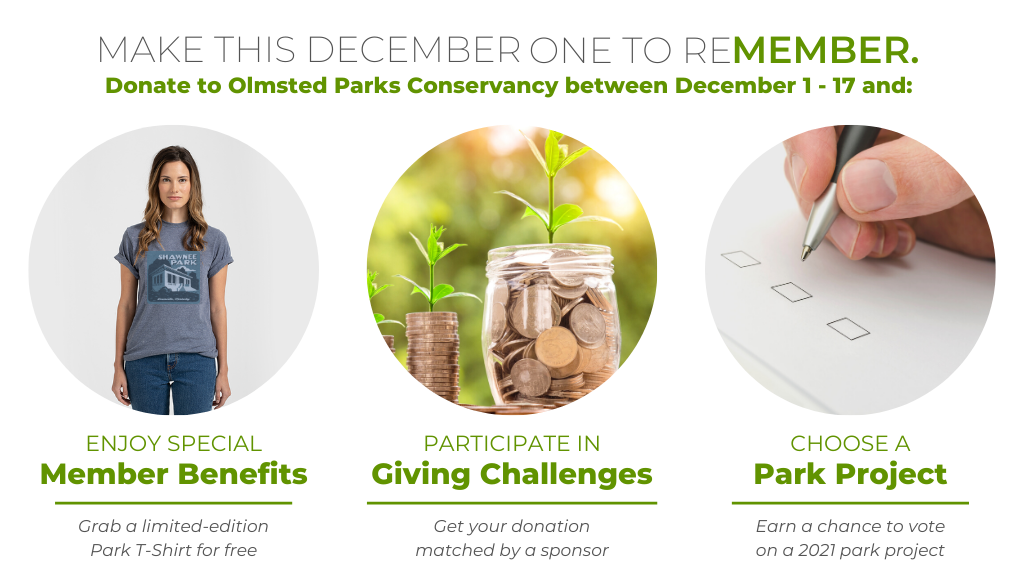 ---

Enjoy Special Membership Benefits When You Donate During the Drive
when you donate FROM DECEMBER 1 – 17, YOU CAN GET SPECIAL BENEFITS ON TOP OF THE ALREADY AWESOME ANNUAL MEMBERSHIP BENEFITS:
MEMBERSHIP DRIVE
EXTRAS
A chance to vote on the next Park Project
Choose a special limited-edition Shawnee Park t-shirt as your member benefit
Participate in giving challenges and qualified donations will be matched by our generous sponsors
ANNUAL

MEMBER BENEFITS
One of many membership gifts based on giving level (see more here)
A 10% discount on merchandise in our online store with discount code 2020MEMBER10
Monthly Member E-News with special members-only content
Invites and discounts to special events and more!
---

Participate in Giving Challenges When You Donate
Your donation could be matched—or even doubled!—if it qualifies for one of the below giving challenges.
DECEMBER 1
Give the gift of membership on
#GIVINGTUESDAY
December 1 is "Giving Tuesday" – and the perfect time for you to help us kick off our Membership Drive by becoming a member for as little as $15/month or make a $60 one-time donation. You can even gift a membership to friends and family!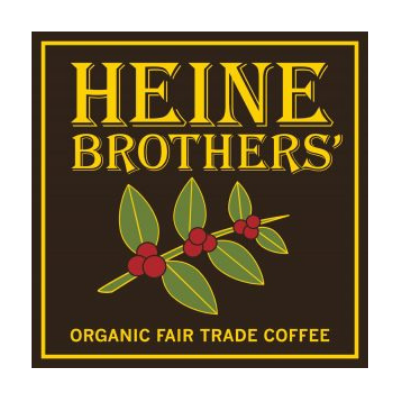 DECEMBER 1 – DECEMBER 17
DONATE $50/MONTH

OR $500 AND GET A $50 MATCH FROM GE APPLIANCES

Become a Trail Champion by donating $50/month or making a one-time gift of $600, and GE Appliances will match $50 of your donation. For this amount, we can maintain miles of natural trails in the Olmsted Parks, making them safer for thousands of bikers, hikers, and walkers.

Additional benefits at this level include a beautiful book or tshirt (for yourself or someone you love) and an invitation to our annual State of the Parks presentation with President Layla George.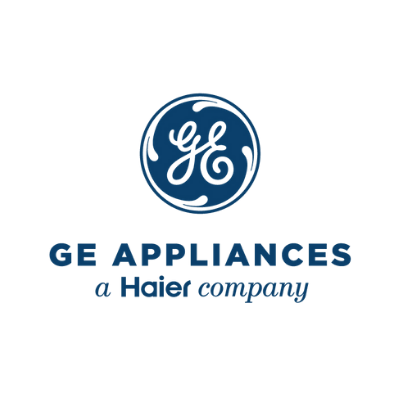 DECEMBER 1 – DECEMBER 17
100 NEW MEMBERS

UNLOCK $5,000 MATCH FROM LG&E

LG&E has agreed to donate $5,000 if 100 new (first-time) donors sign up to give $5/month during our December Membership Drive. Those that do will receive our new Shawnee Park t-shirt.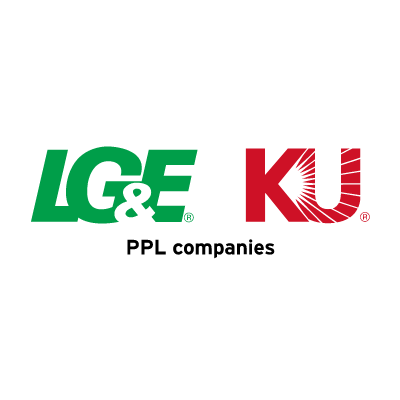 DECEMBER 1 – DECEMBER 17
DONATE $30/MONTH

OR $360 AND GET A $100 MATCH

We have a special matching fund from Fifth Third, Limestone Title and Limbwalker Tree Service who have agreed to donate $100 for every donor who becomes a Tree Steward with a one time gift of $360 or a monthly sustaining gift of $30/month.

Support from donors at the Tree Stewards level support our work expanding and caring for our tree canopy in the Olmsted Parks. Additional perks at this level include a copy of the beautiful book, Louisville's Olmsted Parks and Parkways – a wonderful gift for yourself or someone you love!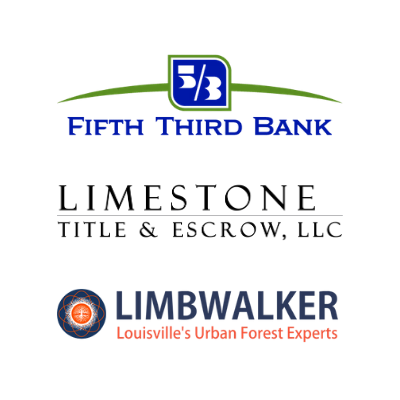 DECEMBER 1 – DECEMBER 17
existing members who
increase your annual gift

get an olmsted parks bandana thanks to MCM CPAs

Many are not able to give at the level they gave last year and we understand. 2020 has been tough all the way around. Can YOU give a little more this year to cover the gap? For all donors who increase their gift this year, we will send you a limited bandana of our Olmsted Park system. Just our way of saying thank you for helping us finish 2020 strong. Thanks to MCM CPAs for sponsoring this special challenge!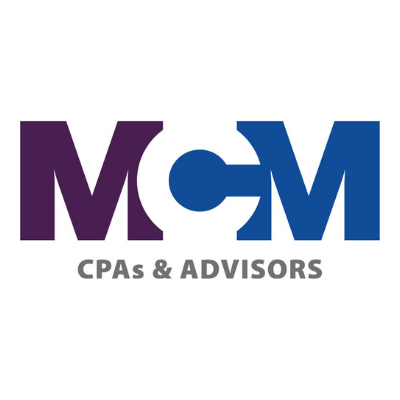 DECEMBER 3 – DECEMBER 4
DONATE $250 and unlock a special match from KENTUCKY SELECT PROPERTIES
Come back to olmstedparks.org on December 3 (or follow us on Facebook!) to learn more about this special challenge available ONLY on December 3 and 4. Challenge expires at Midnight Friday, December 4.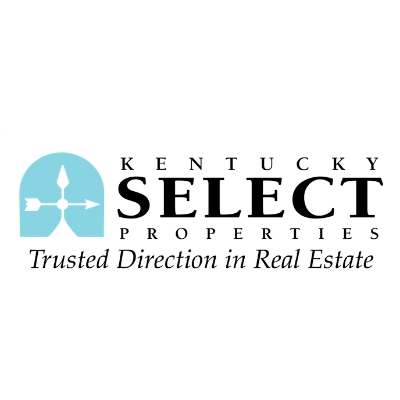 DECEMBER 17
Unlock a special match from bluegrass automotive
Come back to olmstedparks.org on December 17 (or follow us on Facebook!) to learn more about this special challenge, available to donors ONLY on the last day of our membership drive.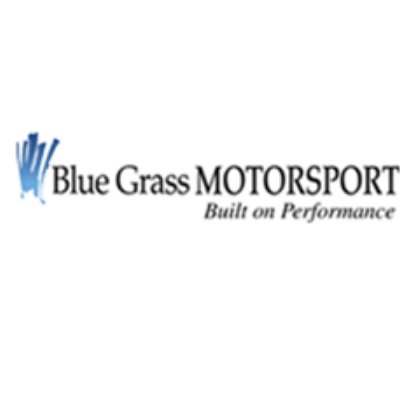 ---

Donate and Vote for the Next Park Project
A DONATION OF ANY AMOUNT BETWEEN DECEMBER 1 – 17, 2020 EARNS YOU A CHANCE TO HELP US PICK THE NEXT PARK PROJECT, THANKS TO SUPPORT FROM HEINE BROTHERS!
We need YOUR help choosing one 2021 park project to be funded by presenting sponsor Heine Brothers. Every donation you make between December 1 – 17 earns you a chance to vote. Upon making your donation online, you'll receive an email confirming your donation and get a link to vote on the next park project. (Please note: donors who choose to make their gift by check will be contacted separately with the link.)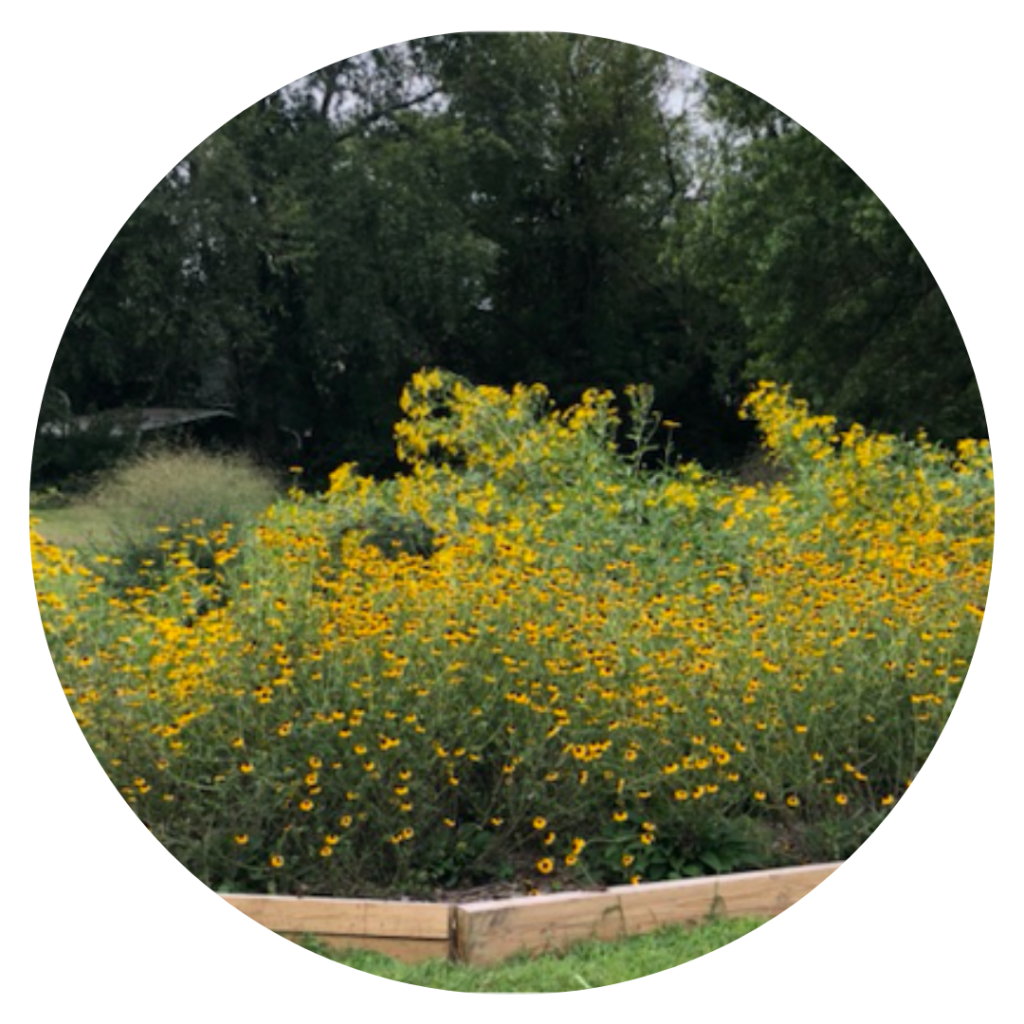 Chickasaw Park
POLLINATOR GARDEN
Pollinators are vital to our ecosystem and play an important part in the production of crops for food, fibers and medicine. By planting a pollinator garden in Chickasaw Park (similar to the photo shown here of one we planted last year in Algonquin Park) we can support pollinators in West Louisville with a variety of blooming nectar sources throughout the Spring, Summer, and Fall growing seasons.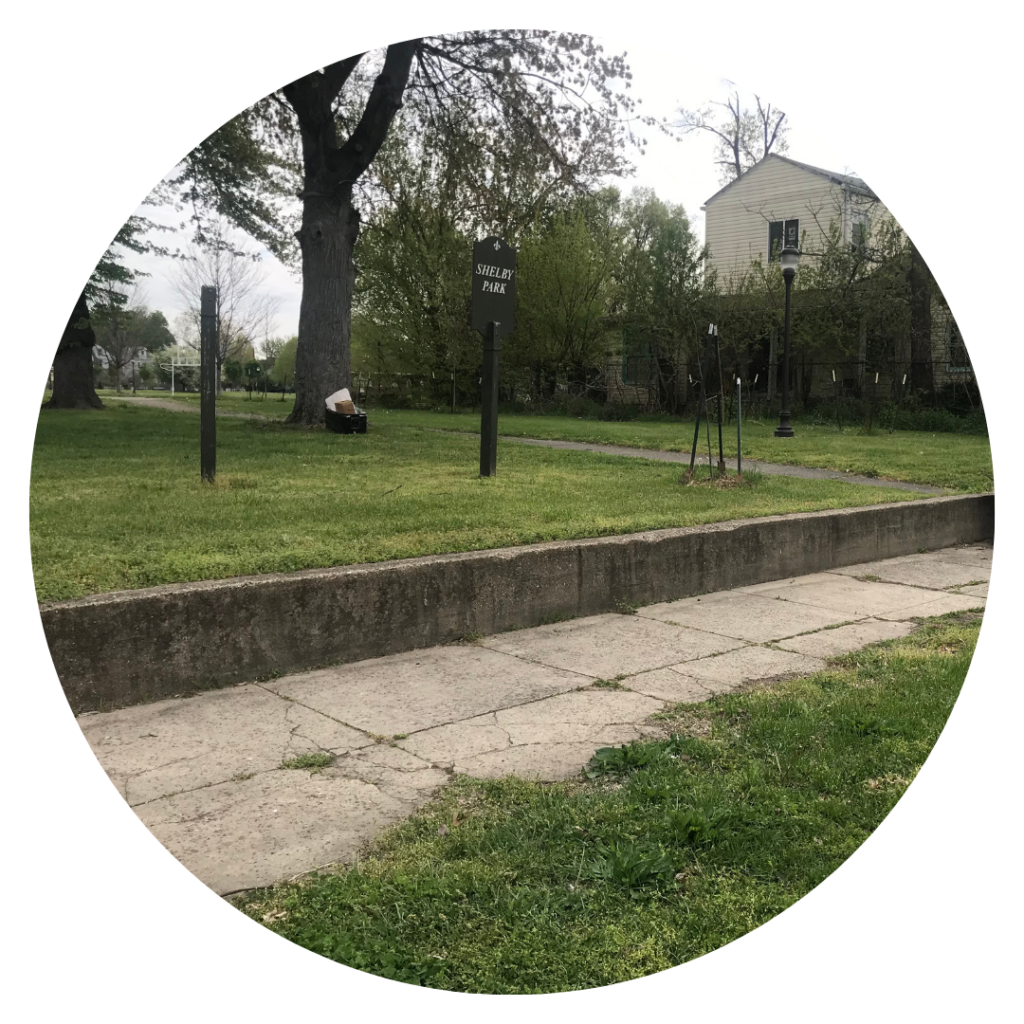 Shelby Park
ENTRANCE BEAUTIFICATION
While it may not serve as the official "main entrance" to Shelby Park, the entrance at Camp Street (shown here) is a primary access point for neighbors and park visitors. In upgrading the entrance with native plantings, and new signage, the park will be more welcoming and inclusive and bring value to the entire neighborhood.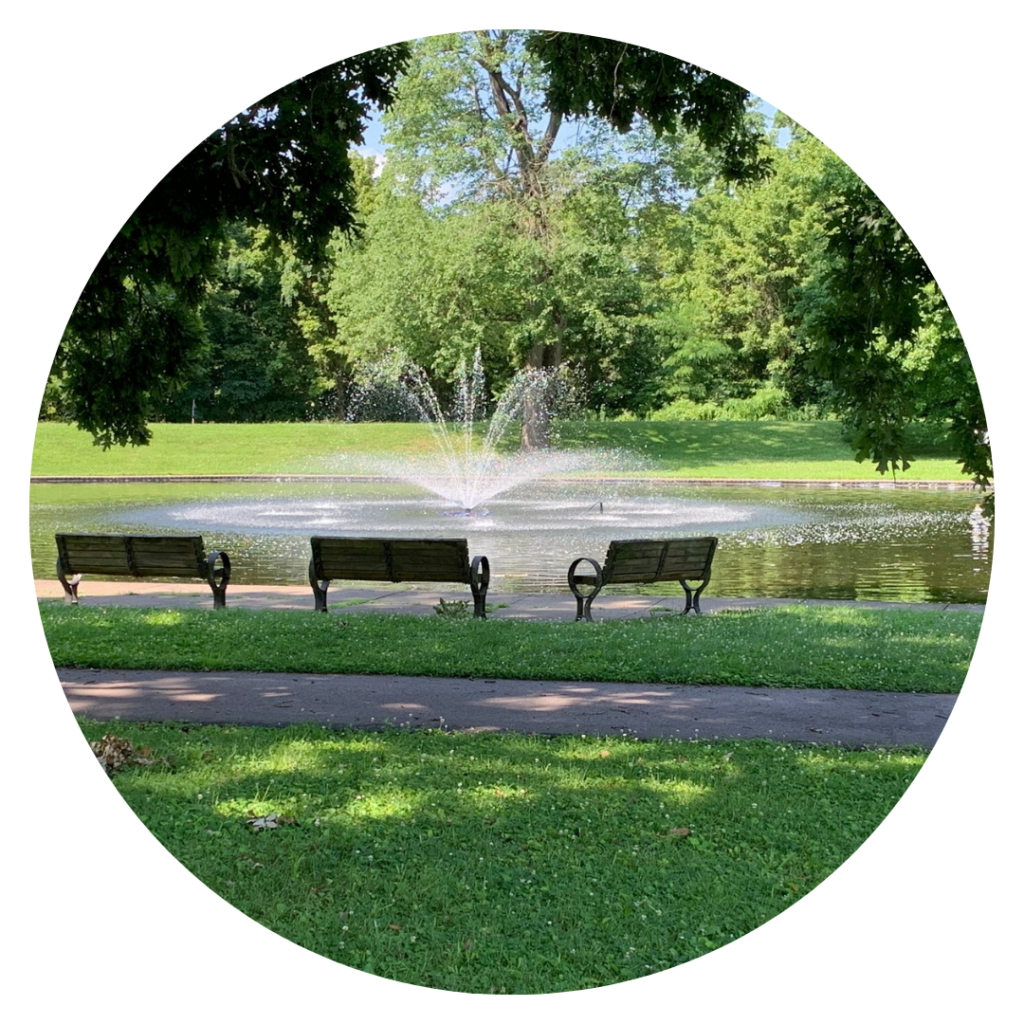 Shawnee Park
LILY POND FLOATING ISLAND
The Shawnee Lily Pond is a lovely half-acre pond that was completely restored in late 2018. By installing floating islands complete with vegetation, we can provide habitat and food for pollinators, birds, reptiles, and insects as well as shade for fish and other aquatic animals. The floating island would also help prevent large build ups of algae, keeping the pond healthy and beautiful.
---
Thank you to our generous sponsors