Cherokee Park: Bonnycastle Hill Restoration Project
May 31, 2018
This project is moving along! See photos of the progress that has been made! you can see the footers are being formed up for the new Stegner Pavilion. The basketball court and walkway around the area has been cut and gravel laid. Limestone is being set along the park road for the lay-by parking
---
March 9, 2018
Olmsted Parks Conservancy, in collaboration with Louisville Parks & Recreation, is pleased to announce the start of restoration work in the Bonnycastle Hill Area of Cherokee Park.
This $1,100,000 restoration project includes construction of a new picnic pavilion in the southern area, relocation of the basketball court, additional walking paths, and reconfigured parking area to better accommodate park user needs.
Special thanks to the Stegner Family, donors to Olmsted Parks Conservancy's Campaign for Extraordinary Parks, Metro Louisville, and Louisville Parks & Recreation.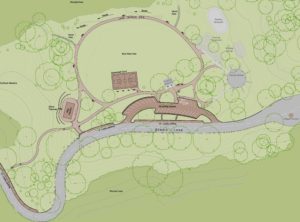 The popular area of Cherokee Park is named in honor of Mrs. Hattie Bonnycastle who donated the land to the city in the late 1800s. The Bonnycastle Hill area was included in the original plan for Cherokee Park by Frederick Law Olmsted. Sharing this area is the popular landmark Hogans Fountain designed by Enid Yandell.