Monday, April 25 at 6 pm is the second and final public meeting about the potential closure of Cherokee Park golf and our proposal.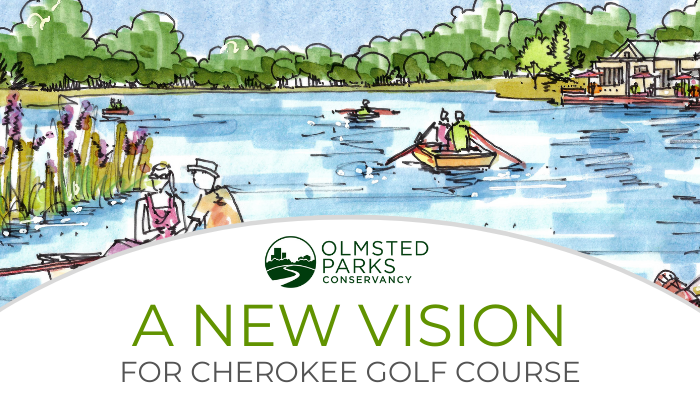 This project has the potential to be transformative.
We strongly believe that OPC is the best partner to bring this corner of our city to life. Here is why –
Olmsted Parks Conservancy has a long history of protecting our park system and ensuring those assets are well maintained and accessible to all. We have overseen over $50 million worth of investment into our parks and parkways over our 33 year history. We can do the work.
We can create broad recreational options that increase accessibility and maximize usage – currently we have almost 60 acres that are available only to golfers. Limited single use = limited park usage. Cherokee is one of the busiest parks in the city and you have a sizeable amount of land that is basically off limits to everyone except golfers.
We can improve the ecological health of the natural resources. Golf courses require very intensive maintenance that is hard on the land, detrimental to water quality, and far worse at capturing stormwater and carbon.
We're committed to a robust master planning process with community engagement at its core. I can promise you that if we are selected to manage this property, there will be ample opportunity to voice your opinions about what you want to see happen at the property.
We are not in charge of whether the golf course closes or not, but we hope to be a part of the solution if it does.
Here is how you can help:
Attend the public meeting on Monday April 25th, 6 pm Cherokee Golf Clubhouse, 2501 Alexander Road
Sign up to speak at the meeting! When you check in, let them know you would like to speak and put an asterisk by your name.
Email Louisville Parks & Recreation and voice your support for Olmsted Parks Conservancy's plan to restore and reintegrate Cherokee golf course into Cherokee Park.
Olmsted Parks Conservancy Reimagines Cherokee Golf Course as a Public Park
Find something similar: Cherokee Park