Its amazing! Fields of yellow and purple coneflowers, lavender bergamots, fragrant mints, purple mist flowers and small sunflowers are blooming in the prairies of Cherokee or Seneca Parks. In just two growing seasons, these areas have blossomed beyond what we imagined!
Through a USDA Environmental Quality Improvement Program (EQIP) grant Olmsted Parks Conservancy converted a total of seven acres in Cherokee and Seneca Parks to colorful prairies. This is an important step as we continue to manage the invasive plants in these parks. The Prairie Project helps prevent growth of Porcelain Berry Vine as well as other invasive plants that might otherwise take root.
The five acres in Cherokee and two acres in Seneca were open areas that needed to be mowed multiple times, now its transformed into beautiful field of native flowers. Prairies provide healthy habitat for birds and native pollinators, and a food source for some wildlife.
Want to visit a prairie? Click on the locations below.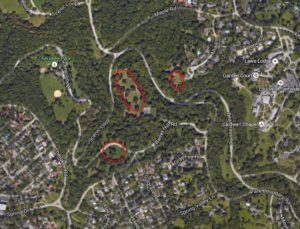 Find something similar: Cherokee Park Seneca Park