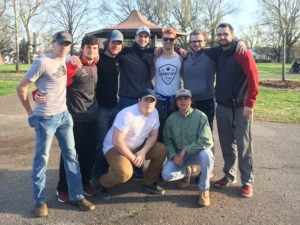 Thanks to all the volunteers who came out during Mayor's Week of Service!
51 Trees Planted and Mulched! Louisville Police Officers (D2) and Hogan Lovell law firm shoveled dirt and mulch to bring more beauty to Algonquin Park.
44 Hours Removing Invasive Plants! Thanks to Brown-Forman and our Park Stewards, Seneca Park has less bush honeysuckle.
115 Healthy Trees! Mulched trees are healthy trees. Accenture, Bellarmine Rugby Club and Louisville Police Officers (D1) spread mulch around park trees in Boone Square and Iroquois Park.
61 Students Helped! Students from Rutherford Elementary and Sacred Heart Academy spent their time field trip cleaning up around Chickasaw and Iroquois Parks.
TOTAL FOR THE WEEK: 373 hours given, 7 projects completed in 5 parks by 154 volunteers!
Thank you for enhancing the Olmsted Parks!
Find something similar: News