Natural Trails: Updates on Cherokee Park, Iroquois Park, and Seneca Park
Wilderness Loop in Seneca Park
Revised December 9, 2022
Wilderness Loop in Seneca Park Trail work has been mostly completed. While the trails are not officially opened, we know that mountain bikers and hikers have begun using them already.
These trails have been rebuilt and some sections are more technical. Please click the link below to review the map and use caution when attempting the Blue/Black section.
Hikers, please yield to cyclists and use extreme caution on the ascending sections. Mountain bikers may be traveling at higher speeds with less reaction time and notice. Please note that the descending sections of trails are mountain bike use only.
Dogs must be on a leash and hikers with dogs are encouraged to use other trails, if possible, to prevent injury to themselves, other park users, and their animals.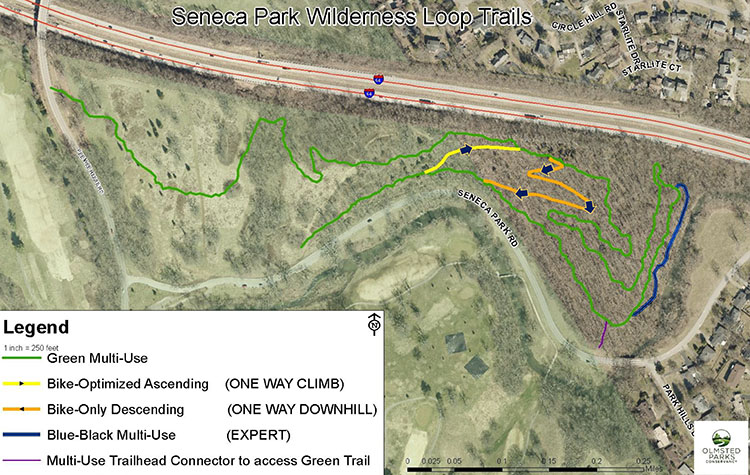 ---
Closure of Wilderness Loop in Seneca Park will begin today, September 9, 2022
This section, known as the Wilderness Loop, will be reworked to include bike optimized climbing and descending trails (On the trail plan this is SP 4 and part of SP2). Earlier this summer, OPC cleared sections of thick invasive plants. Now, the trail crew is bringing in two small earth-moving machines and some other equipment. Both machines and a chainsaw may be in operation all at the same time, and operators will have hearing and vision protection on, so they very well may not see or hear people, dogs, or bikes in the work zone. Please stay out of the area that is flagged for closure until further notice.
If the weather is good, you may run into trail work into the evenings and on weekends, and machines, logs, and other equipment may be on the trails. Please use other trails in Seneca and Cherokee while this area is closed – this is for your safety and for the safety of the trail crew.
Click the image below to view in larger scale. The red bounding boxes are closed for construction.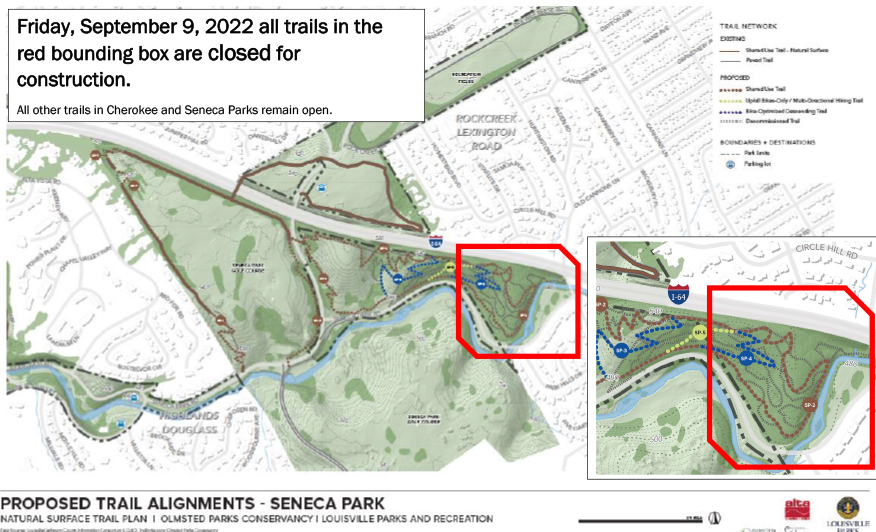 IROQUOIS PARK:
Phase 1 is about halfway to completion. IP8 and IP9 on the Eastern half of the park (above the Amphitheater) are complete and available to hike. This moves us towards the goal of connecting key access points and destinations by linking the amphitheater parking lot, hiking behind the Jack O'Lantern Spectacular area, and taking user up towards the Corby Trail and North Overlook. Work at Iroquois has paused while the crew moves on to Seneca for the next couple of months. Phase 1 will be completed late this year when IP23 (The Corbly Trail connection to the North Overlook) has new stone steps installed.
cherokee PARK:
Work is slated to begin at Cherokee after progress is made on Seneca Phase 1 trails. No closures at this time – please enjoy the trails!
---
Update: Natural Trail Study & Conceptual Plan
Thank you to everyone who completed the survey, attended a public meeting and provided feedback through the interactive park maps. The design team used that feedback in developing a plan for a more sustainable park trail system in Cherokee Park, Iroquois Park, and Seneca Park. While these parks are well-loved community assets, there are challenging issues such as overwhelming use, rogue trails, conflict between trail users, mobility and environmental degradation.
Since receiving the plan recommendations, we worked with Louisville Parks and Recreation to hire a contractor through the city's procurement process. We have selected High Country Conservation to develop exact cost estimates for each section of trail construction and repair. Once we have the construction documents, we will then work with Louisville Parks and Recreation and High Country Conservation to develop a timeline for implementation.
Click the links below to view the park recommendations for Cherokee, Iroquois, and Seneca.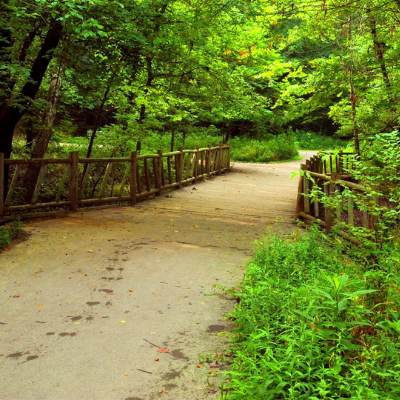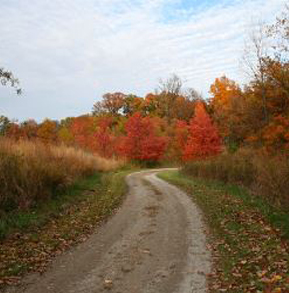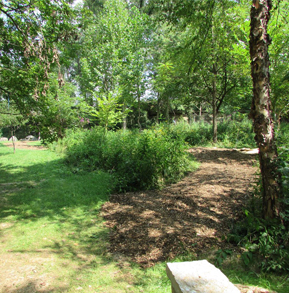 For the latest updates and information, please sign up for our newsletter and follow us on social media.