Olmsted Parks Conservancy recommends converting Cherokee Golf Course back into a public park and presents preliminary ideas to restore Willow Pond, plant meadows and woodlands, and renovate the clubhouse as an outdoor restaurant to generate revenue for the park.
Olmsted Parks Conservancy is an independent non-profit organization that works closely with Louisville Parks and Recreation to fund capital projects and maintain the natural areas and woodlands in Louisville's historic 17 Olmsted-designed Parks and 6 Parkways –including Cherokee Park. In late 2019, we submitted a proposal to convert Cherokee Golf Course into a public park as a part of our response to Louisville Metro Government's Request for Proposal to operate and maintain the 10 Metro Golf courses.
Cherokee Park was built in 1891 and designed by Frederick Law Olmsted himself. The 52-acre property currently used for Cherokee Golf Course was originally part of the park, as shown in Olmsted's earliest designs. When golf was introduced in Cherokee Park in 1900, the Olmsted Firm strongly urged the Board of Park Commissioners to reconsider. The city proceeded with repurposing the property into a golf course against the Olmsted Firm recommendation, opening the 9-hole course in 1900. The course then briefly expanded to 18 holes in 1915 before returning to a 9-hole course in 1934 – likely due to plans to open Seneca Golf Course in 1935. In 2019, there were 54,000 rounds played Seneca Golf Course annually while only 15,000 were played at Cherokee Golf Course – making Cherokee one of the most underutilized courses in the city.
"I grew up in family of golfers. My father would play 54 holes on a Saturday when I was growing up; he was on the course from dawn until dusk," said Layla George, president and CEO of Olmsted Parks Conservancy. "My daughter plays golf and loves the sport, but I don't know anyone who plays as much as my father and many others did back then. I appreciate the incredible social value and opportunity that golf offers, but the simple fact is that we now have more courses than local players can support."
Cherokee and Seneca Park have an estimated 1,600,000 visitors in 2019, according to the Trust for Public Land. While the park has been the most frequently visited and heavily used, less than 1% of park visitors have access to the 52 acres of parkland while it is being used as a golf course. If permitted to oversee the property, we do not intend to operate this site as a golf course but will instead seek to assume management of the property to integrate the area into Cherokee Park. A Master Planning process would then take place to listen to park users and collect community input to create a plan for the park that meets the needs of the people who use it most.
"As our city faces significant challenges and pressures, we see a once-in-a-lifetime opportunity to invest in our collective well-being. We believe our proposal offers the best use of public space for the benefit of ALL residents, not just golfers," George continued. "Imagine the corner of Grinstead Drive and Lexington Road brought to life with new walking trails, a pond for canoeing and fishing, increased tree canopy, and hundreds of people enjoying the space daily. This underutilized, under-performing golf course can be reinvented as a vibrant and welcoming entrance into the most loved and used municipal park in our community."
In our proposal, we showcase examples of how this land could be converted into a park supported by artistic renderings created by Taylor Siefker Williams Design Group, LLC which illustrate the vision born out of our public survey created to collect input from the park users. In the survey, we asked current and former golfers and regular park-goers if they supported the proposal and what they'd like to see. Based on survey responses, 74.83% support Olmsted Parks Conservancy's proposal to turn Cherokee Golf Course back into a public park.
"Thank you for this survey. I am a former golfer who used to play at Crescent Hill and Cherokee a lot, but municipal golf courses like these are a limited use facility, and not highest and best use of public land," expressed one survey respondent. "Unless you are a golfer, you don't have access to this urban green space. Let's return these to true public spaces accessible to everyone."
As a more equitable and environmentally friendly use of this land, our proposal explores the idea of converting the golf course into a modern interpretation of an Olmsted Park, utilizing the unique landscapes to create a dynamic park space that will be open to all members of the community. Our response, A New Vision for Cherokee Golf Course, showcases our vision to transform the current golf course from a financial liability into a treasured park space, where all members of the community are welcome, environmental stewardship is showcased through timeless design, and, through programming, revenue can be generated to help pay for maintenance.
Our proposal reimagines Willow Pond as a centerpiece to Cherokee Park's landscape, complete with a Boathouse for rentals, creating a unique destination at the corner of Grinstead Drive and Lexington Road. The next section of the proposal looks at converting the Golf Course into a series of meadows, woodlands, and open space to create a nature walk that serves as an oasis in the heart of the city. And to generate revenue for maintenance of the Olmsted Parks, we suggest renovating the golf clubhouse to serve as a family-friendly restaurant and patio area.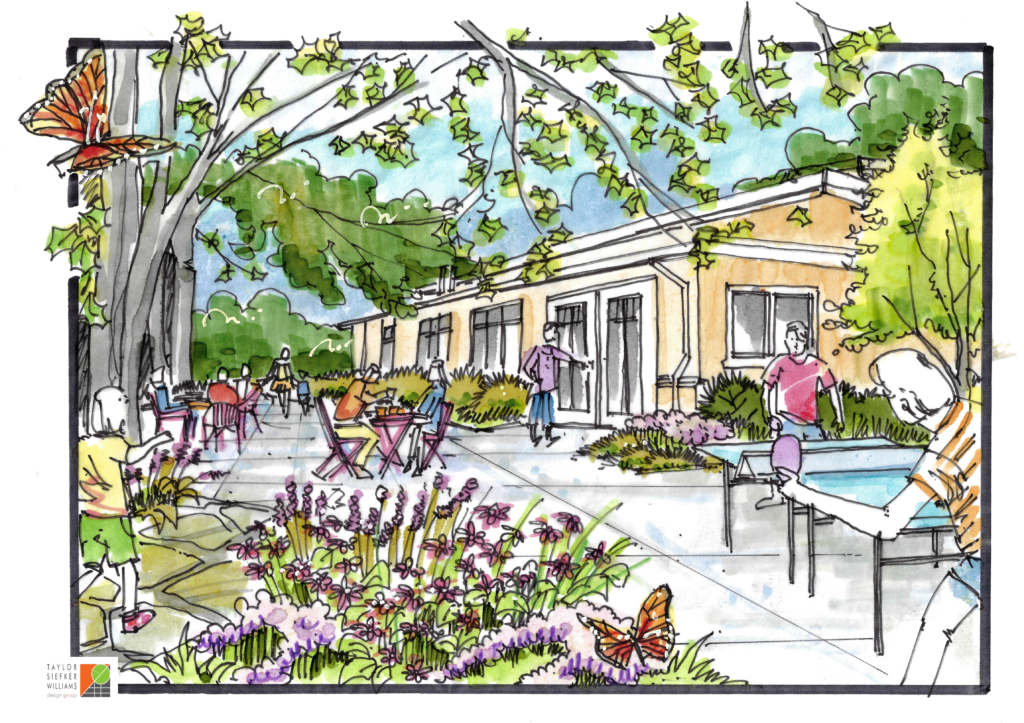 Whether you agree with the idea, or not – your voice matters. Contact your Metro Council Representative to express your opinion.
You can download our proposal, A New Vision for Cherokee Golf Course, at olmstedparks.org. Hi-resolution artistic renderings are available for download at olmstedparks.org and permission for reprinting / publication with attribution has been given by Taylor Siefker Williams Design Group, LLC.
Find something similar: News Cherokee Park