As the last leaves fall in the Olmsted Parks, it's a busy time for tree work! November kicks off tree pruning and planting season – dormant trees planted in late fall and winter are not shocked by being transplanted and can wake up in their new spots when spring comes.  Additionally, some trees will need pruning.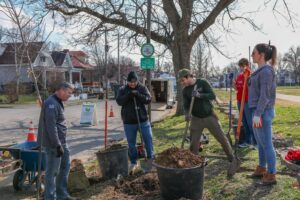 Our Team for Healthy Parks has two arborists on staff, so trees in the Olmsted Parks are established and maintained with the highest standards of care. We select native trees that support a variety of wildlife and have the best chance of thriving in our natural areas.
When we plant trees in the late fall and winter, they have plenty of time to establish their root systems before hot weather returns. Summer is the most stressful time for newly planted trees – the Team for Healthy Parks spends a lot of time on irrigation during the season – so trees planted in colder months are set up for better growth and development.
When it comes to pruning, our team assesses need based on the type of tree. Deciduous trees are pruned in early winter, when most insects and leaves are gone and the tree structure is easy to evaluate. Flowering trees, however, will be pruned in the spring after blooming to encourage new growth.
If you are considering adding a tree to your home landscaping, November can be a great time to plant. We highly recommend native tree species, and you can find a list HERE! 
Find something similar: News