At every playground, there seems to be a particular magnet for activity. During the opening of the new Central Park playground, it was clearly the wheelchair accessible carousel. As neighborhood children explored the new space, they were drawn to the seating on the carousel, which features nature-inspired designs, and they were thrilled to discover that it spins!
As the children explored the playground, they discovered several unique interactive games. "I like the question one, it has the stars because you open them and learn to read a little more – I'm working on my reading," said Isla, age 5, a Central Park neighbor.
The playground opened just one day after Metro Council approved Mayor Craig Greenberg's $1.1 billion budget for fiscal year 2024, which includes an allocation of $500,000 for a spray pad to be added to the park. Construction material shortages and price increases pushed the spray pad out of the budget for the project, but this funding will enable us to add the spray pad back into the design.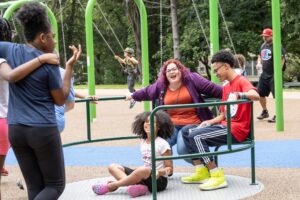 Louisville Parks and Recreation previously had five ADA accessible playgrounds. Three of those playgrounds – Shawnee, Iroquois and Shelby Parks – are Olmsted Parks. The Central Park playground is the 4th ADA accessible playground in the Olmsted Park System and the 6th within Louisville Parks and Recreation.
The Central Park playground was made possible by more than 100 generous donors, including the Gheens Foundation, the Judge Family Foundation, the Mackin Family Foundation, The Norton Foundation, the Cralle Foundation, The Woman's Club of Louisville, Ward Engineering Company, the 1300 Association, the Second Street Association, and the Central Park West Association.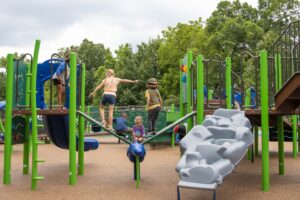 The project was completed in partnership with Louisville Parks and Recreation with matching funds from the City of Louisville. We are grateful for the support of Deputy Mayors David James and Nicole George and Metro Council member Phillip Baker.
Special thanks to Cindee Quake-Rapp for organizing a fundraising campaign to help make the Central Park Playground a reality!
Find something similar: News Projects Central Park