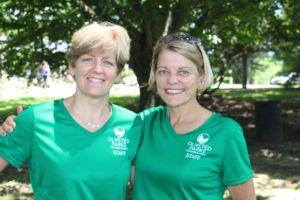 After nearly 10 years as President, Mimi Zinniel has announced her plans to retire. Mimi has been at the helm of the Conservancy and responsible for tremendous growth over those years. "Through Mimi's leadership, and with the dedicated efforts of an extraordinary staff, much has been accomplished," said Earl Jones, Board of Trustees chairman. "We were strong when she started and we're even stronger today." Since its founding, the Conservancy has raised more than $36 million in gifts and grants, $13 million of which has come during Mimi's time as President.
In recent years, the Conservancy has increased its impact across the entire community; broadened its financial support from local foundations, corporations and individuals; and increased its volunteer force to more than 1,200 individuals. Under her leadership, the Conservancy created and grew its Team for Healthy Parks, the field crew of ecologists responsible for aesthetic and habitat improvements in Louisville's Olmsted-designed parks.  The Team's most significant achievement to date is the nearly complete eradication of invasive bush honeysuckle in Cherokee, Seneca and Iroquois Parks, a $4 million, 7-year effort to restore the parks to optimum ecological health.
Working side-by-side with Metro Parks & Recreation, the Conservancy has made several other significant investments in the 18 historic parks, many now over 100 years old. A standout project recently completed is the $1.4 million restoration of Iroquois Park's North Overlook, one of Frederick Law Olmsted's most iconic designs. Mayor Greg Fischer applauded the public/private partnership led by the Conservancy and Metro Parks and stating, "The work cements Iroquois Park's position as one of the premier tourist destinations" in Louisville.
Other large projects accomplished during Zinniel's tenure include:
Restoration of Boone Square's historic limestone wall
Demonstration project to stabilize Chickasaw Park riverbank
Eradicating hundreds of acres of invasive bush honeysuckle in Cherokee, Seneca, and Iroquois Parks
Constructing of play-all playgrounds with spray features in Iroquois and Shawnee Parks
Constructing erosion prevention and storm water control projects in Iroquois and Cherokee Parks.
Zinniel leaves the Conservancy poised for a strong future. "We are about to conclude the largest fundraising campaign in the Conservancy's history, considerably exceeding our initial fundraising goal," Jones reported. "With Mimi's leadership and through the generosity of local donors, our Campaign for Extraordinary Parks raised over $11 million. That success will enable us to accelerate investments already underway in Victory Park, Boone Square and Central Park, and begin improvements in the Bonnycastle Hill/Hogan Fountain area of Cherokee Park, as well as in Tyler Park."
In 2007, Zinniel retired from a long career at Brown-Forman, prior to her stint at Olmsted Parks Conservancy. She looks forward to permanently retiring with no plans for yet another career, though she acknowledges there is often a Third Act. She will remain active in the community she loves, noting, "There is never an absence of need for volunteers" across the service sector.
A national search has been launched to identify the Conservancy's next President.  Zinniel will remain in her current position until her successor is on board.  The search is managed by Ashley|Rountree & Associates, mrountree@ashleyrountree.com. 

Find something similar: News