September 14, 2016
It was a beautiful day to celebrate the opening of the North Overlook at Iroquois Park. This incredible project came together because of an immense love for our community and its beautiful parks! We are proud that our Mayor, Metro Council and many donors of Olmsted Parks Conservancy were committed to providing the funds required to restore the North Overlook to standards expected and deserved by its users and other park supporters. Please take a look at some of the fantastic features of this project.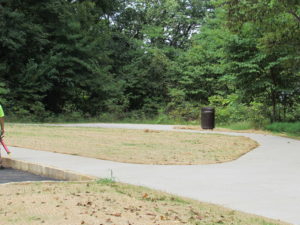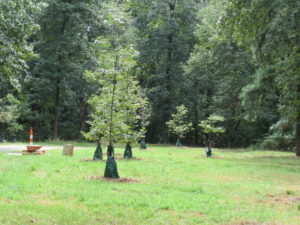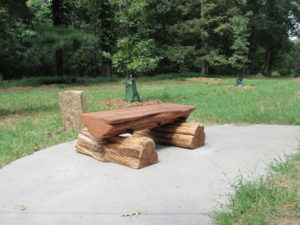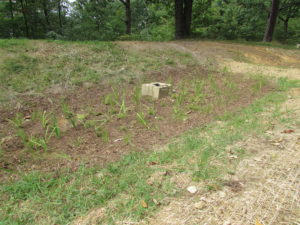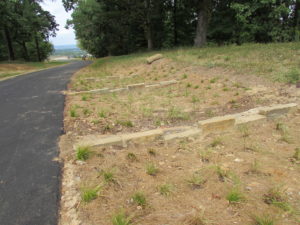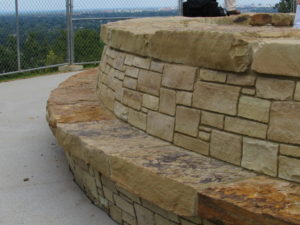 ---
We are happy to announce that after many months of work, the much-anticipated restoration of the Iroquois Park North Overlook is complete!
A meandering, wheelchair-accessible path now takes the park user to a lovely area with improved views of downtown Louisville and the Indiana Knobs. The experience is maximized when sitting on the rustic stone bench or in the grassy picnic areas. Varieties of trees and shrubs have been planted along with native plants in several retention basins in order to help control erosion.
Please join us at the top of the hill to celebrate the improvements to this historic Olmsted-designed park, loved and enjoyed by many.
Greg Fischer, Louisville Mayor
Marianne Butler, District 15 Councilwoman
Seve Ghose, Metro Parks and Recreation Director
Mimi Zinniel, Olmsted Parks Conservancy President/CEO
---
May 17 update: The $1.2 million North Overlook project at Iroquois Park is progressing: grading complete in parking area; concrete forms set for the entry area to the overlook path; grading and seeding done on either side of the walking path and three bench pads have been formed and concrete poured. There have also been many trees planted and several rain gardens formed. Officials from Metro Parks and Recreation and Olmsted Parks Conservancy report a delay with the construction of the circular stone bench at the Overlook . The sandstone needed for the bench has been difficult to get because of weather issues at the quarry. They are hopeful the necessary stone to finish the project can be delivered soon. Estimated open date for the North Overlook is mid-July.
---
May 2 update: More changes at the North Overlook project: grading complete in parking area; concrete forms set for entry area to the overlook path; grading and seeding for the areas on either side of the walking path are complete and three bench pads have been formed. 
January update: Asphalt has been laid for the Overlook trail and the Sullivan Grove parking lot and the stone curbs are almost complete. The formation of the rustic stone seat wall in the Overlook area has started.
The site is still closed to pedestrian and motor vehicle traffic while construction is taking place. Check back soon for more updates. Thanks to many generous donors, this project is jointly funded by Olmsted Parks Conservancy and Metro Parks and Recreation.
Find something similar: Iroquois Park