As a member supported organization, Olmsted Parks Conservancy relies on generous donors to help bridge the gap between the funding our park system receives from the city, and the funding the parks need to be vibrant and healthy.
Many donors choose to make a major gift to the Conservancy to make a significant impact on our urban green spaces. Some are concerned about climate change and resilience in the city. Others want to preserve the history of Fredrick Law Olmsted's park system, one of only four such landscape architecture masterpieces in the world.
We honor our major donors with exclusive park experiences that engage the senses with all that Olmsted's landscapes have to offer. Past events include: a private hayride and dinner in Iroquois Park's Summit Field among fall wildflowers; dining among the trees in a secluded area of Cherokee Park; and sharing a meal at the future site of the Beargrass Preserve park expansion, overlooking the impressive view years before the park plan is realized.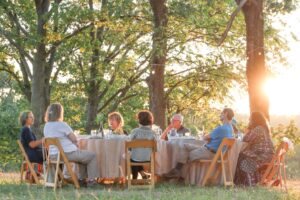 No matter their philanthropic goal, there are several ways that donors can be part of major giving with the Conservancy.
Circles of Leadership donors contribute $1,000 or more annually and are invited to several exclusive events throughout the year.
Oak Leaf Society donors contribute $10,000 or more toward the development of Beargrass Preserve, the first major expansion of Cherokee Park in 100 years.
1891 Society donors have included Olmsted Parks Conservancy in their estate plans.
To learn more about making a profound impact on the parks and joining our major donors in these exclusive park experiences, contact Danielle Archer at 502-456-3260 or Danielle.Archer@olmstedparks.org.
Find something similar: Cherokee Park