Thanks to Carlon Roofing, the Natural Surface Trails Restoration project is picking up the pace! 
Donate HERE to help us improve trails in Cherokee Park, and your dollars will be matched, up to $20,000. We are grateful for this generous support!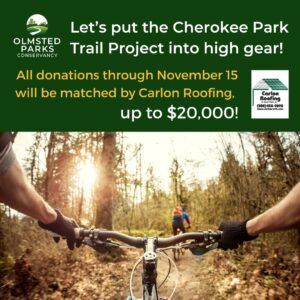 Olmsted Parks Conservancy, in partnership with Louisville Parks and Recreation, conducted a trail study in 2019-2020 with help from Alta Planning and Design to learn how to better control soil erosion and improve the existing natural trail system in Cherokee, Iroquois, and Seneca Parks. The team worked to develop recommendations to improve the natural surface trails by combining data from their field observations with the feedback received via interactive park maps, a Trail Usage Survey, and the input received during two public meetings. 
The Natural Surface Trail Plan provides a conceptual 25-year guide for three of Louisville's Olmsted-designed parks. While Cherokee, Seneca, and Iroquois Parks are well-loved community assets, their trail systems have a history of challenging issues including overwhelming use, rogue trails, conflict between trail users, and environmental degradation.
Find something similar: News Cherokee Park