The Kentucky Transportation Cabinet closed Bridge #2 in Cherokee Park in March 2023 for repairs. While making the repairs, they discovered deterioration under the deck surface, which changed the scope of the project. Instead of being repaired, the bridge must be completely replaced.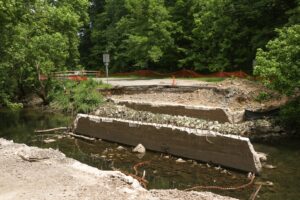 The process of getting new permits for the bridge replacement delayed the project past the expected completion deadline. The bridge is expected to reopen in July 2024.
Olmsted Parks Conservancy has worked to keep the park experience as seamless as possible during the bridge closure. Our team laid new gravel for a detour trail and has placed signage based on park user feedback. We hope that these efforts help people continue to enjoy the park's Scenic Loop.
Find something similar: News Cherokee Park