Olmsted Parks Conservancy is fundraising for a renovation of Bingham Park that would transform the space into the most visually inclusive park in Louisville! We have earmarked $1.2 million for this restoration, and improvements will be completed in phases, depending on the cost of construction and financial support for the project. Currently, we are working with Louisville Parks and Recreation and Element Design to develop a schematic design and hope to have construction documents by winter of 2023.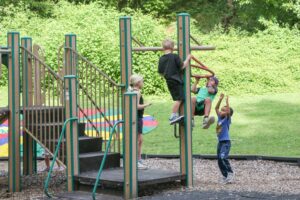 When planning a park project, we look to the neighborhood to learn how the urban green space can best serve the surrounding community. Olmsted Parks Conservancy is working with the neighboring American Printing House for the Blind and Kentucky School for the Blind to create a plan for the park to be the most accessible in the country for blind and visually impaired people. There is so much potential for Bingham Park to become a place for blind and sighted visitors to connect, and for sighted people to learn more about the blind experience.
We are evaluating the possibilities of several amenities to complement the work of Kentucky School for The Blind (KSFB) and American Printing House for The Blind (APH.) When one Olmsted Park shines, the Olmsted Park System as a whole is stronger, and a better resource for all.
Find something similar: News Bingham Park