Thanks to a generous $8 million gift from Norman and Belita Noltemeyer, Olmsted Parks Conservancy was able to purchase approximately 25 acres of land from the Louisville Presbyterian Theological Seminary in December 2021. The property acquisition represents the first major expansion of Louisville's Cherokee Park. Known as Beargrass Preserve, the land is currently the subject of a master planning process led by Taylor Siefker Williams Design Group.
We want your input on the plans for Beargrass Preserve! There is a public open house on October 18, 5-7 p.m. at Douglass Community Center, 2305 Douglass Boulevard. You can stop in at your convenience during those hours and stay as long as you like. 
You can also provide feedback by visiting the Beargrass Preserve Discovery Trail and scanning the QR codes on the signage at various points of interest. Visit Taylor Siefker Williams' site to access a map of the trail.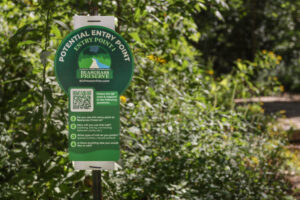 The more input we receive, the more this new extension of the Olmsted Park system will reflect our community's dreams for Beargrass Preserve! Please join the open house and visit the Discovery Trail to make your voice heard.
Find something similar: Projects Cherokee Park