Wayside Park is a small park near the backside of Churchill Downs that adds lovely green space to the neighborhood.
Wayside Park's flower garden has been in the process of a remodel since Fall 2022. Olmsted Parks Conservancy's Team for Healthy Parks has already removed dying plant material, excavated a large amount of old soil, amended with compost and regraded the bed.
The final stage for the landscape bed will be a more permanent design with native perennials coming in Fall 2023. In the meantime, the Team added annuals for a little temporary color!
Mayor Craig Greenberg has allocated $50,000 for improvements to Wayside Park in the 2024 fiscal year budget! These funds will allow us to give the park a full facelift.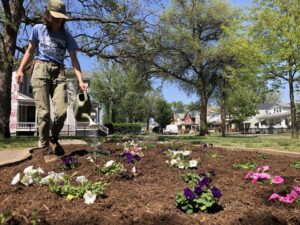 Find something similar: News Projects Wayside Park