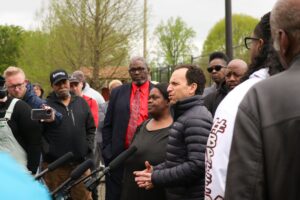 Metro Council approved Mayor Craig Greenberg's $1.1 billion budget for fiscal year 2024 on Thursday. What's in it for the Olmsted Parks?
$3.1 million for renovations to ALGONQUIN PARK'S pool, as well as Norton pool in Camp Taylor.
$1.1 million for ELLIOTT PARK to complete the full park restoration – a total investment of $2.9 million!
$500,000 for the new CENTRAL PARK SPRAY PAD: Construction material shortages and price increases pushed the spray pad out of the budget for the new ADA accessible playground. This funding will enable us to add the spray pad back into the design.
$200,000 for CENTRAL PARK SIDEWALKS: this is one of the most popular parks in our community with the least accessibility because of the poor condition of the sidewalks. Replacing the sidewalks will ensure everyone can enjoy the beautiful tree canopy, the numerous events in the park and the new fully accessible playground and spray pad.
$300,000 for CHICKASAW PARK: Olmsted Parks Conservancy President and CEO Layla George and West Louisville Tennis Club President Dr. Aretha Fuqua both recommended that the Mayor include funding for additional lighting in Chickasaw Park in the wake of the tragic March 2023 shooting. Lighting, sidewalk repairs and tennis court restoration support West Louisville Tennis Club's work building intergenerational community and wellness.
$150,000 for safety improvements at CHEROKEE PARK'S Scenic Loop: Park users, we hear you! The Scenic Loop needs painting and directional signage to keep traffic going the right way, and to separate vehicles from pedestrians and cyclists.
$50,000 for WAYSIDE PARK: The Team for Healthy Parks is working on a multi-year process to remove dying plant material, excavate and amend soil, regrade the landscaping and install native perennials. Matching funds will enable us to give this park a full facelift.
Peer cities invest $107 in public spending per resident. Louisville's parks receive $40 in public spending per resident. The data is clear – we need to invest more in our parks. We applaud Mayor Greenberg's funding allocations that demonstrate his commitment to healthy, vibrant parks for all Louisvillians!
Find something similar: Algonquin Park Central Park Cherokee Park Chickasaw Park Elliot Park Wayside Park