July 16, 2018 Update
We are rounding the corner on the to-do list! Next up, roofing, trim, add the windows, and grading around the area.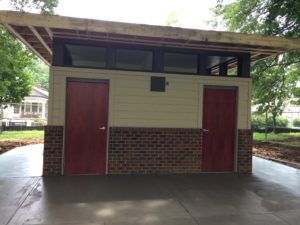 May 31, 2018 Update
The brick work is done! Next the crew will add siding then the roof. Check for more updates including when we will have the grand opening for this much anticipated project!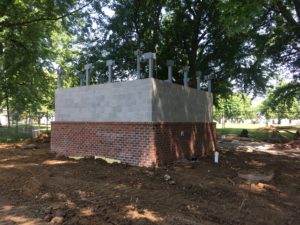 ---
February 14, 2018
Construction work has begun at Boone Square to replace the outdated restroom building in the 126 year old park. Olmsted Parks Conservancy and Louisville Parks and Recreation are investing $400,000 to make improvements to Louisville's first park designed by Frederick Law Olmsted. In addition, Boone Square will have new area lighting, connecting sidewalks, and a new water fountain.
Boone Square is a four acre parcel in the Portland Neighborhood. Prior to becoming park land, in 1865, it was the site for the first organized baseball game in Louisville. In 1891, the land was gifted to the city by Eliza Boone, a descendent of Captain William P. Boone and original owner, and became the first park in Louisville to be designed by Frederick Law Olmsted.
The park became known for recreation activities including handicrafts, volleyball and story hour for children. The park also included a wading pool, swings and seesaws. In the mid-1960s, the city built a new baseball diamond and basketball court which increased the use of the park. More improvements were made in 1982, when Trees Inc. planted 59 trees and with a $150,000 investment by the Boone Square Park Association.
In the last several years, more trees were planted and a portion of the historical wall was restored, thanks to financial support from donors of Olmsted Parks Conservancy including James Graham Brown Foundation, along with support from City of Louisville, Mayor Greg Fischer, Councilwoman Cheri Bryant- Hamilton and Louisville Parks and Recreation.
Find something similar: Projects