A tribute gift is a meaningful way to convey sympathy to the bereaved, memorialize a loved one, commemorate a special occasion or honor a person's life and accomplishments.  Make a tribute gift with a simple donation, a beautiful wood bench or a newly planted tree. Your donation adds beauty to the Frederick Law Olmsted Parks.
Gift Tribute               DONATE HERE 
As you celebrate a wedding, anniversary, birthday or other lifecycle events, think about a tribute donation to Olmsted Parks Conservancy that will serve as an investment in Louisville's historic park system for today and the future.
Bench Tribute
A beautiful wood bench can be installed in many of the Frederick Law Olmsted Parks.  World's Fair-style benches are six-foot long and feature a brass plaque that can be personalized with the message of your choice.
Bench (includes bench, shipping, handling, assembly and installation; engraving on a 10" x 2" bronze plaque):
$3,500: New bench and plaque in your preferred site
Bonnycastle Hill/Hogan Fountain Benches:
Choose your favorite spot along the new walkway being built as part of a current restoration project in the Bonnycastle Hill/Hogan Fountain area of Cherokee Park. The walkway is scheduled to be completed Fall 2018. Your donation of $3,500 will reserve a bench. Place your order by July 6th for Fall installation. Contact Kathy Ezzell (502-456-8125 or Kathy.Ezzell@olmstedparks.org) to reserve your bench location.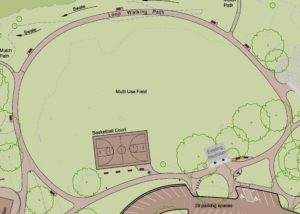 Tree or Shrub Tribute          DONATE HERE 
In keeping with our annual planting plan, you will have many species and locations to choose from. By sponsoring a tree or shrub, you are making a living contribution, adding to the vitality and natural beauty of our parks. Your donation includes planting and maintenance guaranteed for two years, and a custom keepsake and special recognition certification noting dedication and location of the planting:
$750: Endowment of a canopy tree (Oak, Tulip, Elm, Sycamore) with a trunk diameter of two to three inches
$500: Endowment of an understory tree (Paw Paw, Redbud, Dogwood, Buckeye) with a trunk diameter of one to two inches
$200: Endowment of a shrub (Spicebush and Coral Berry) with a height of two to three feet
Questions about Tribute giving, contact Kathy Ezzell at (502) 456-8125 or Kathy.Ezzell@olmstedparks.org.