See all
Cheers & Beers: Volunteer Appreciation Event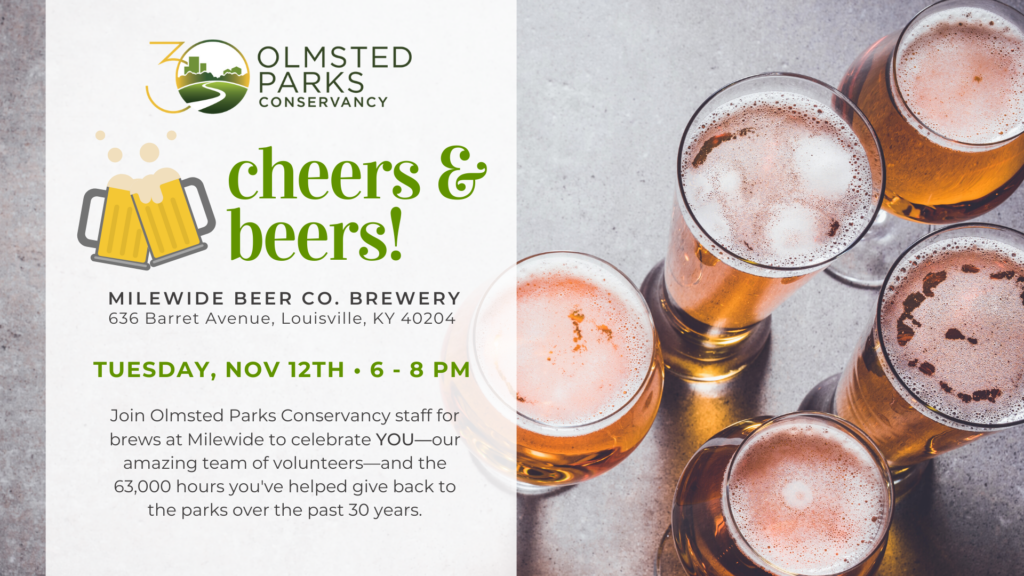 To say thank you to our volunteers, Olmsted Parks Conservancy is hosting a Cheers & Beers Volunteer Appreciation event on Tuesday, Nov 12 at Milewide Beer Co.
---
Join Olmsted Parks Conservancy staff and Volunteer and Education Program Manager Matt Spalding at Milewide Beer Co. on Tuesday, November 12 to celebrate YOU – our incredible team volunteers.
Over the past 30 years, our army of volunteers have put 63,000 hours of hard work into our Olmsted Parks – a value of more than $1.3 million in reduced labor costs for Louisville Parks and Recreation.
Without you, we wouldn't be able to host community events and fundraisers or keep our parks clean, beautiful and accessible for all park visitors to enjoy. So to thank you for all that you do – we're throwing you a party!
Come grab a slice and a brew from 6 -8 PM on Tuesday Nov. 12 at Milewide and mingle with other Olmsted Parks Conservancy volunteers – no gloves, reflective vests, or invasive plant removal required.
Please drink responsibly – attendees must be 21 or older and present valid ID to drink alcoholic beverages. Volunteers under the age of 21 are permitted to join us at Milewide during the program from 6 -8 for pizza and fellowship.