Tyler Park Restoration Project
Olmsted Parks Conservancy and Louisville Parks and Recreation are happy to announce plans have been finalized for a $1.1 million project for Tyler Park.
This lovely thirteen-acre Olmsted-designed park, unique with its irregular shape and rugged terrain, was established as a park in 1910. The centerpiece is an historic bridge which adds character to this loved neighborhood greenspace. Keeping in mind the park's uniqueness, historic features and needs of today, a solid plan for restoration was created.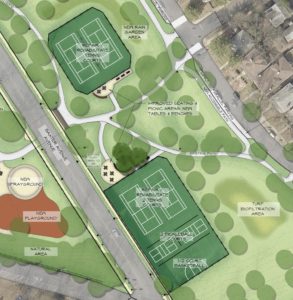 Plan for the east side of the bridge:
Two tennis courts on the upper north part will be repaired and resurfaced
Four-tennis-court set will be reworked to include two tennis courts, half-size basketball court and two pickleball courts
A rain garden and infiltration basin will be installed to address drainage issues
New picnic tables and benches will be added
Walking paths will be improved
Additional lay-by parking will improve accessibility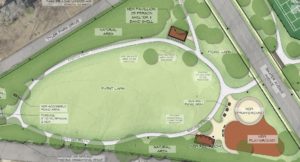 Plan for the west side of the bridge:
Playground and spray ground will be moved and be equipped with up-to-date features
Natural area playground will be added
New picnic tables and benches will be added
New restroom building will be constructed
Ornamental fencing around park will be restored
Additional parking spaces added for improved accessibility
Master Plan also includes a 25-person pavilion but it is not funded at this time.
"We are all pleased to see the start of this project as it will greatly improve the park for the neighborhood and its visitors," stated Layla George, President Olmsted Parks Conservancy.
This project is possible because of financial support from: donors to Olmsted Parks Conservancy's Campaign for Extraordinary Parks; City of Louisville; Mayor Greg Fischer; Councilman Brandon Coan; and Louisville Parks and Recreation.
Tyler Park Neighborhood Association has helped fund park improvements over the last few years including a new walkway on the north-east side, installation of more than ten park benches and planting of many trees and shrubs.
Groundbreaking for this project is estimated to be late this Fall.